Martinique
Tags: Caravelle, food, Martinique, sailing
Date: January 17, 2017
In Martinique we spent the first couple of days at Le Marin. We wanted to stay in the marina but it was full so instead we anchored in the bay along with hundreds of other sailing boats and took the dinghy to shore to do some grocery shopping, laundry and other practical things. Fortunately, we also found time to eat at a few nice restaurants and hang out with some other Danish sailors.
After leaving Le Marin we went to the windward (East) coast of Martinique. Most of that coast is protected by a reef, so it is possible to find anchorages well protected from the Atlantic waves. However, almost no other sailing boats go there, so we could get some peace and quiet after Le Marin. We stayed a few days anchored at a small island called Petite Grenade. The island is uninhabited and covered in mangrove: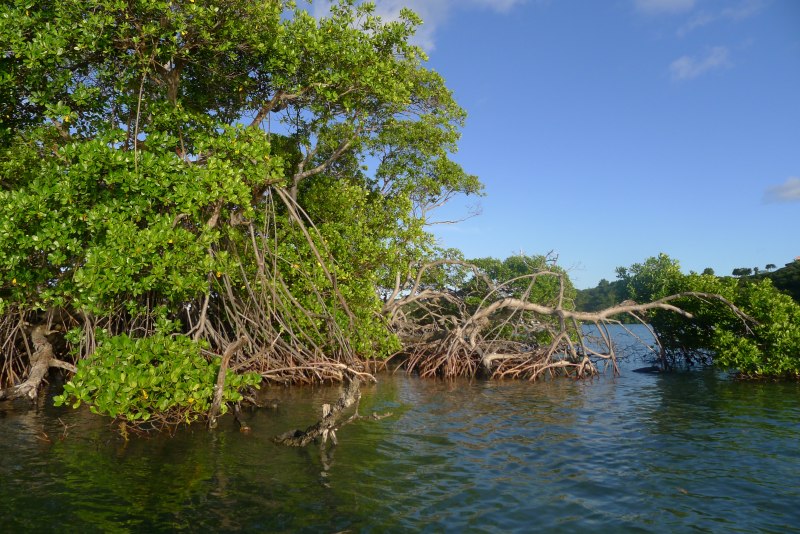 After Petite Grenade we continued north along the coast. Here is a picture of Islet de La Grotte where we anchored for several nights: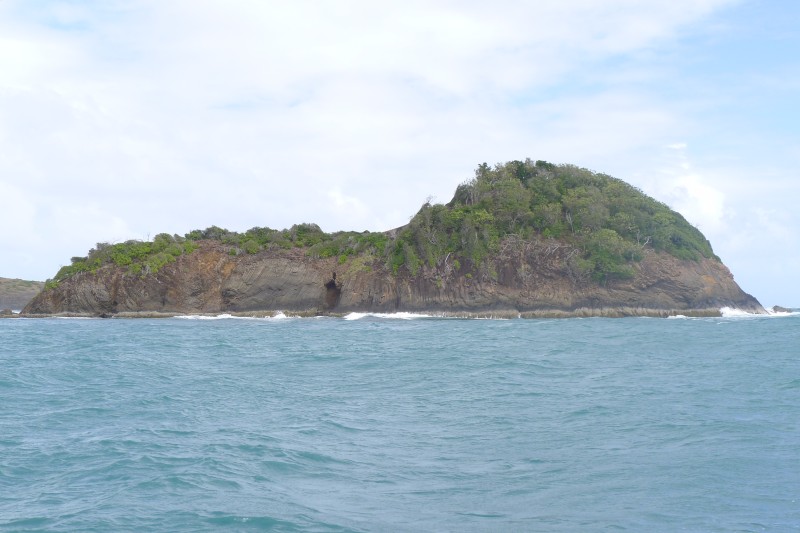 Finally we made it to the bay off La Trinité where we could get groceries and check out of Martinique before heading to Dominica. At La Trinité we also went on a long hike to the peninsula of La Caravelle visiting the nature reserve there and the ruins of a sugarcane plantation.
Two palms growing in the middle of the volcanic rocks close to the tip of the peninsula: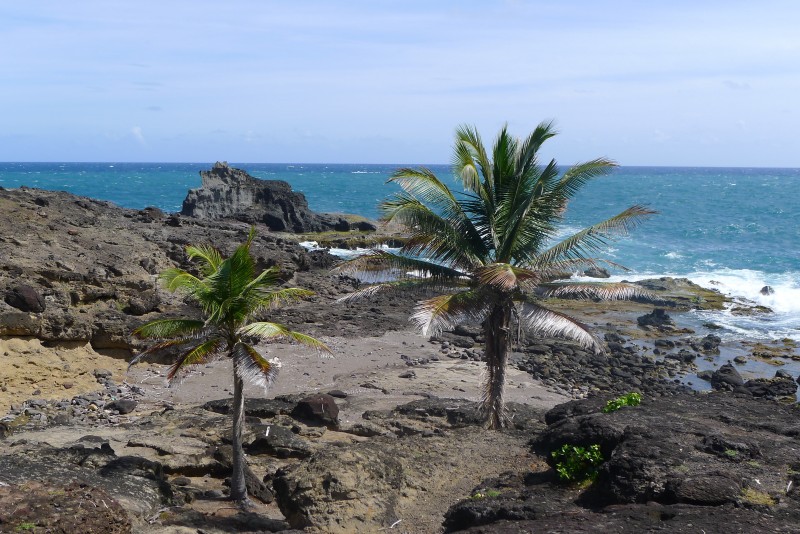 The peninsula is a part of the east coast that is not much protected from the waves that come crashing in from the Atlantic Ocean: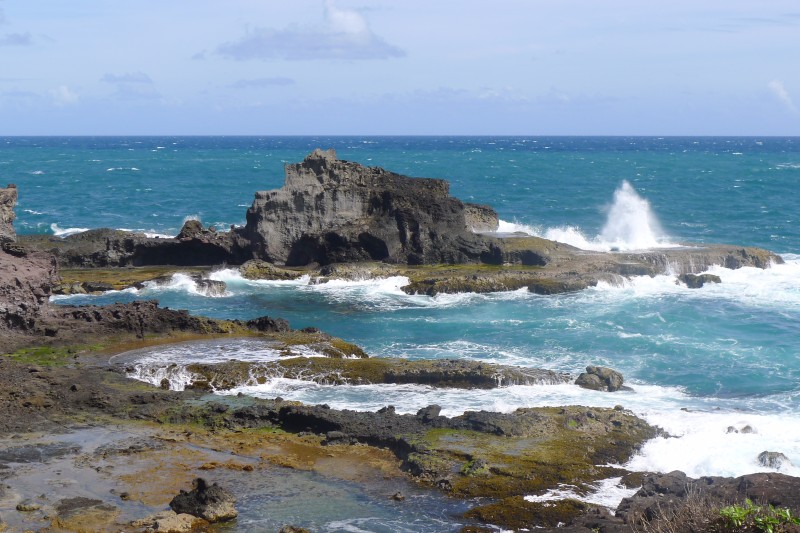 The ruins of Chateau Dubuc that used to be a quite large sugar cane plantation and rum distillery: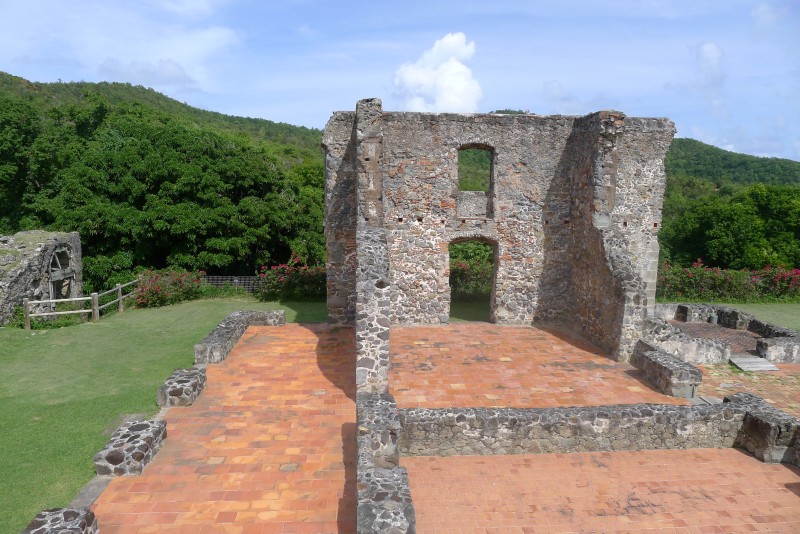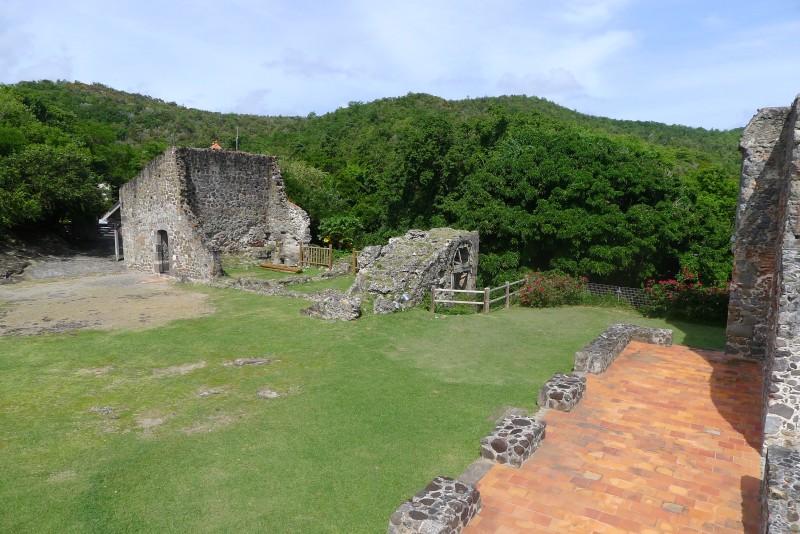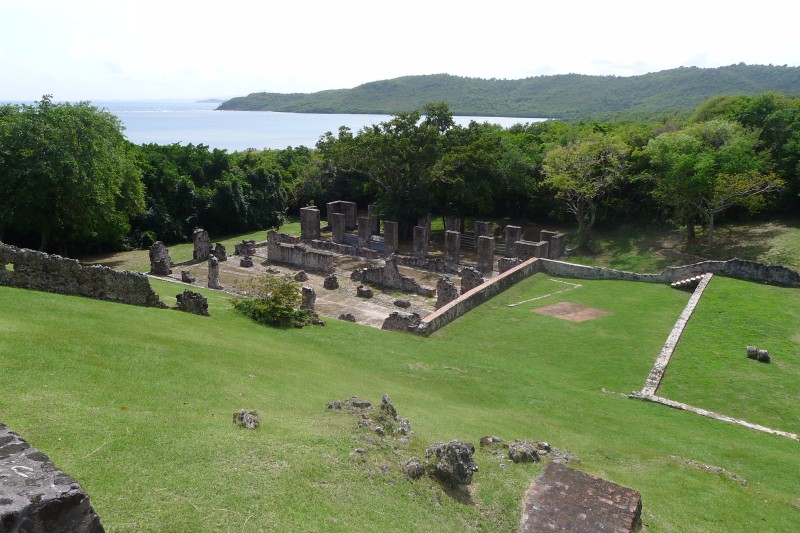 This picture shows (a reconstruction of) the mill used for crushing the canes to extract the juice: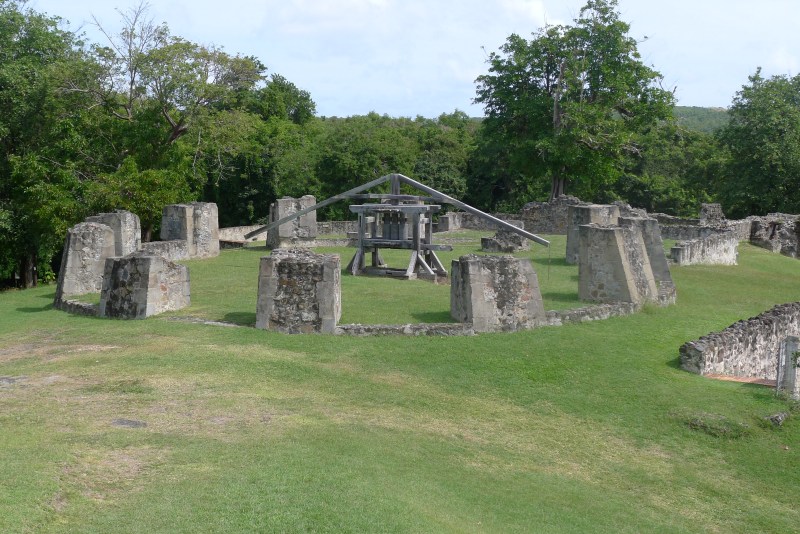 Part of an old building that has been almost completely overgrown by a tree: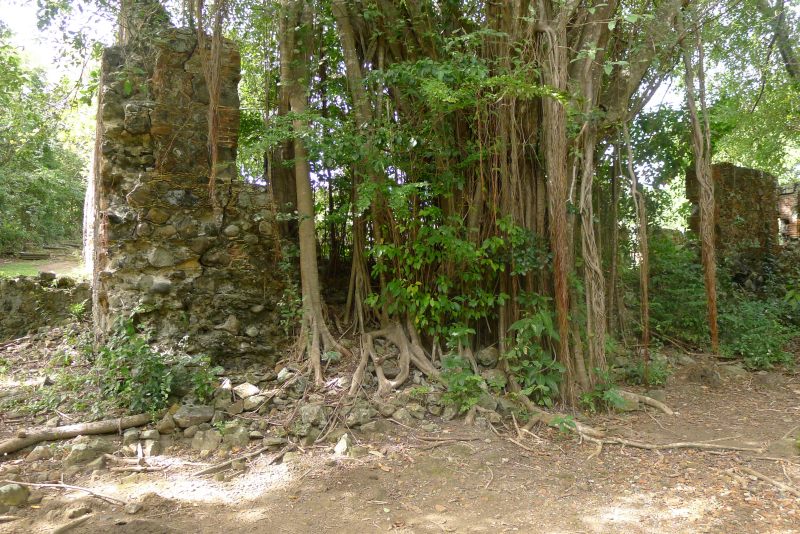 On our way back the nature reserve we went through a wood on the north part of the Caravelle peninsula called La Pointe Rouge. It was extremely hilly and filled with large trees with very impressive roots: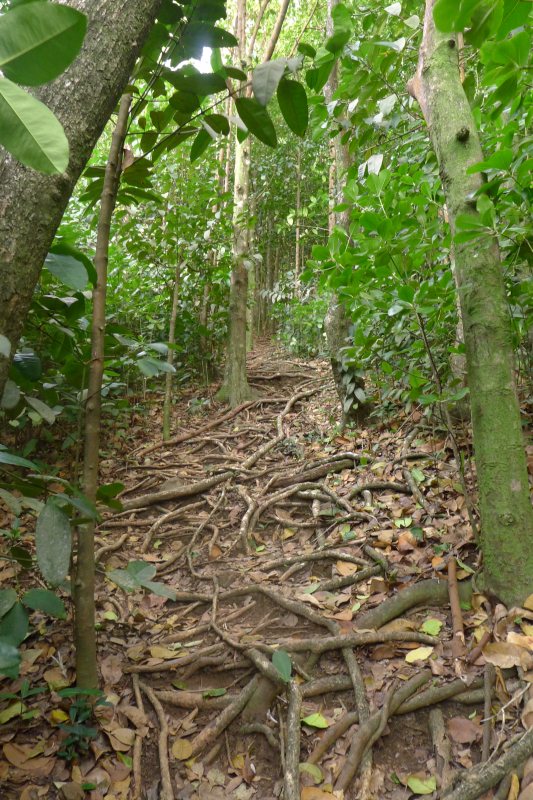 We saw several hermit crabs: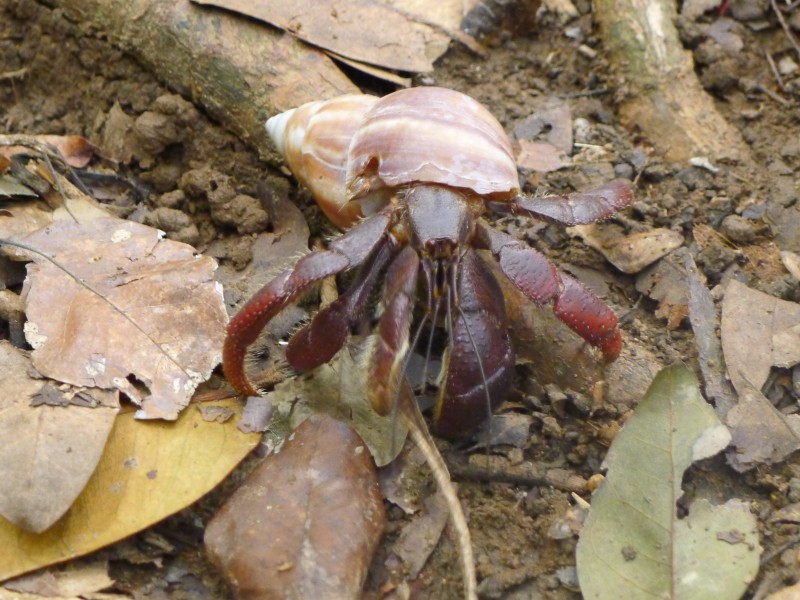 Félicie in front of a large tree: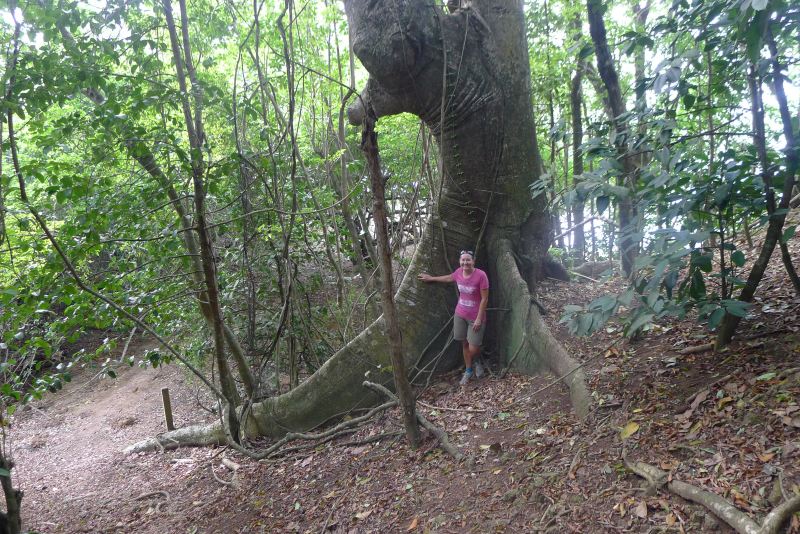 Mangrove on the beach: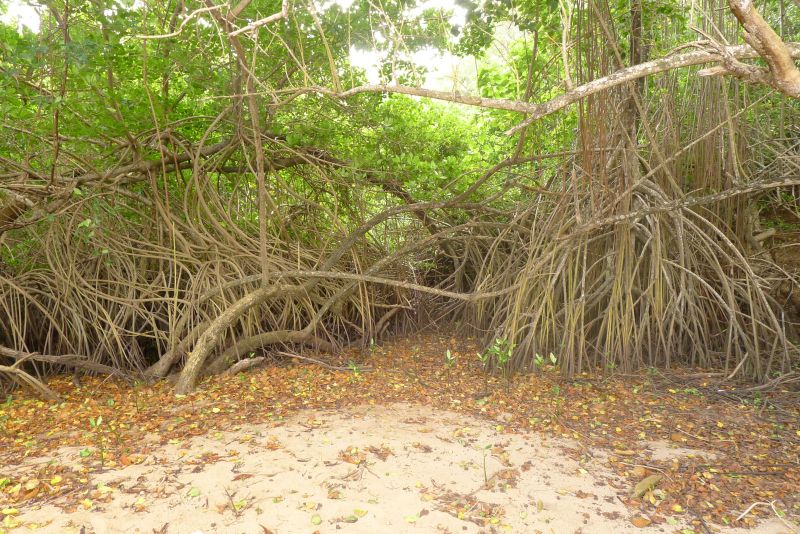 After over 20 km of walking that we we felt we deserved a little dessert. Bananas flambéed in rum: