Cape Breton and beyond
Tags: Bras d'Or Lakes, Canada, Cape Breton, food, Nova Scotia, sailing
Date: August 11, 2017
Cape Breton is an island north east of mainland Nova Scotia separated by a narrow strait. Amazingly, a causeway was built between the mainland and Cape Breton even though the water is about 50 meters deep. They just kept piling in rocks until they were able to build a road. The causeway was ready in 1955 and they used 10 million tons of rock to build it.
We dropped Matt and Bela off in Port Hawkesbury which is on the Cape Breton side of the strait. From there, they took the bus back to Halifax. We went to an island off Cape Breton called Isle Madame for a few days: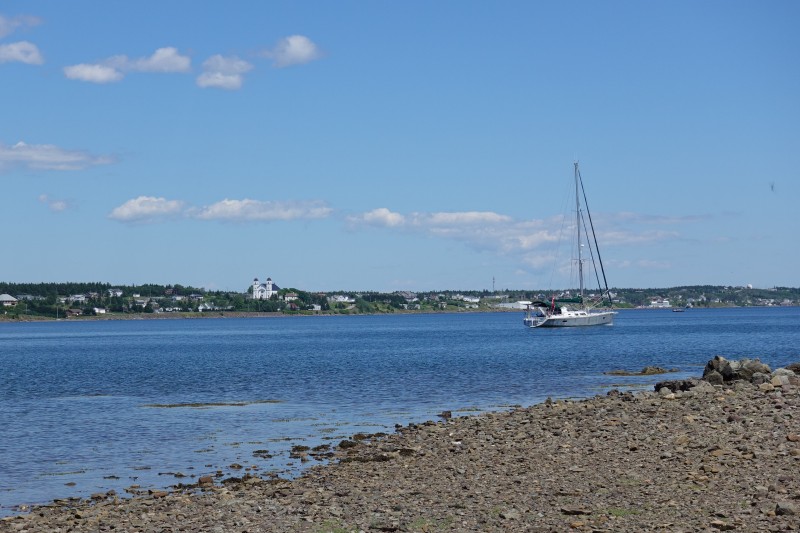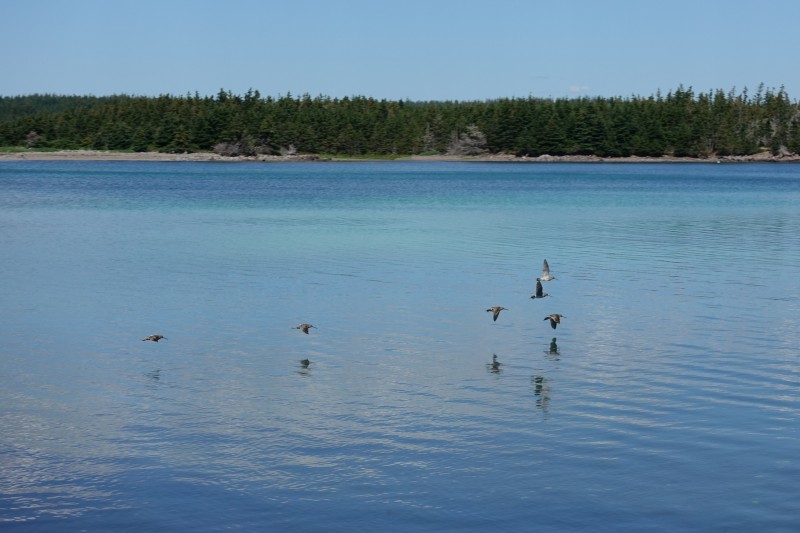 There were so many mackerel that I could hardly get my lure to the bottom before I caught some. I had looked forward to spending some time fishing, but it only took five minutes to catch enough for dinner: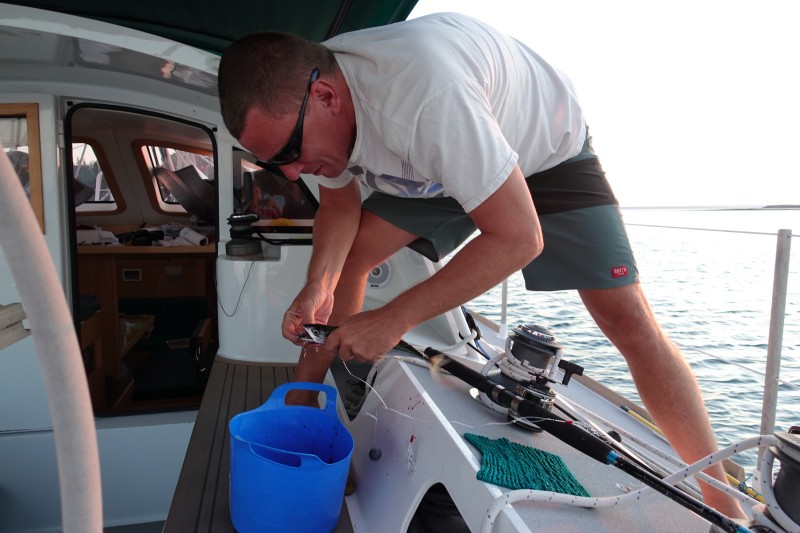 After Isle Madame, we went to the main attraction of Cape Breton for sailors: The whole interior is a body of water called the Bras d'Or Lakes. It is a nice area with some quiet anchorages and a few small towns. In spite of the name, they are not lakes since there is a narrow connection to the sea in the north end. We entered through a lock in the south end.
Here is a quiet anchorage with the moon rising over the neighboring boat: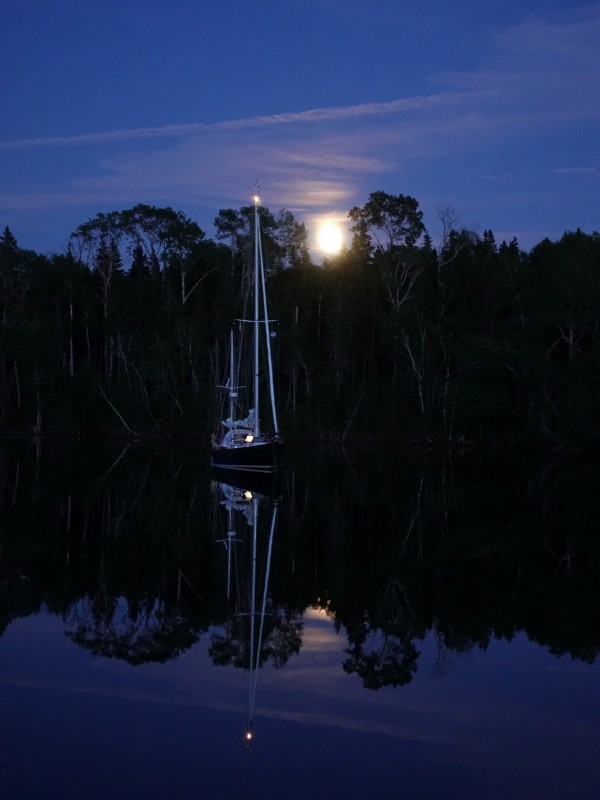 We have seen quite a few bald eagles in Nova Scotia. Here is one we managed to photograph as it took off: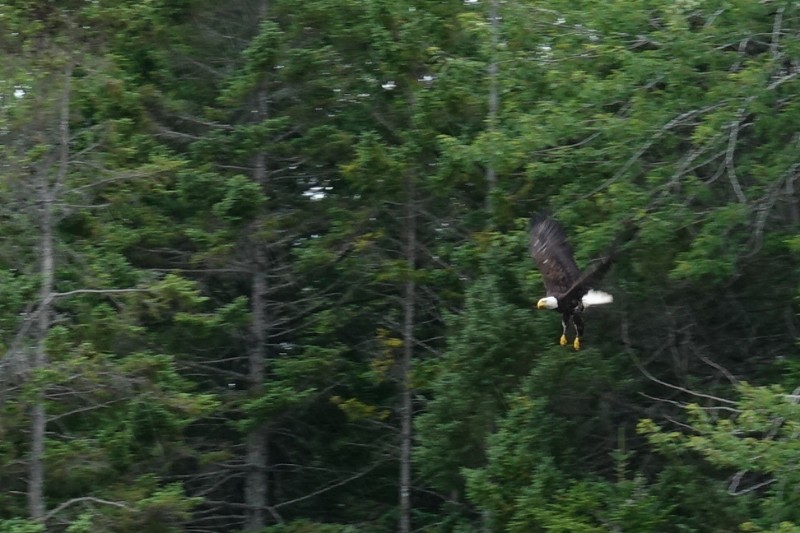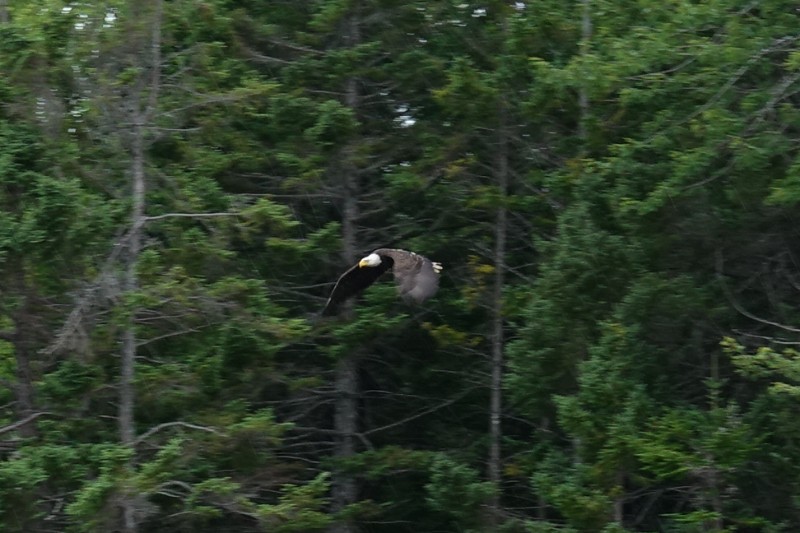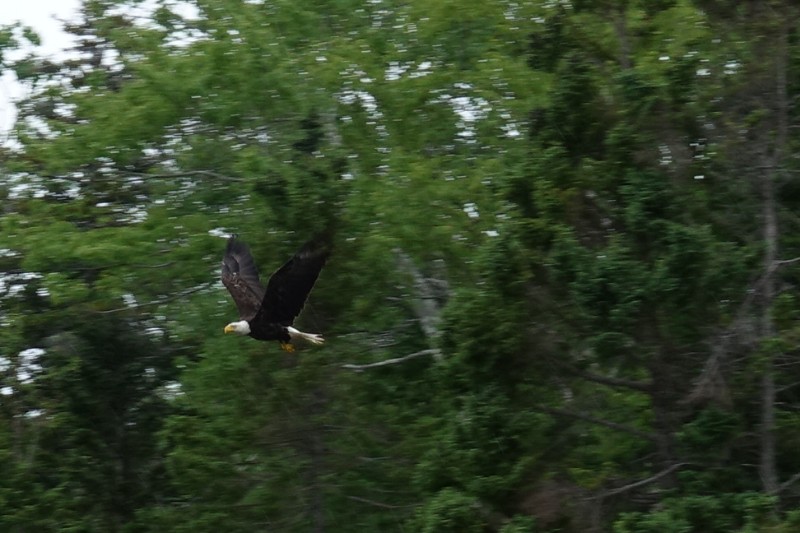 Its nest: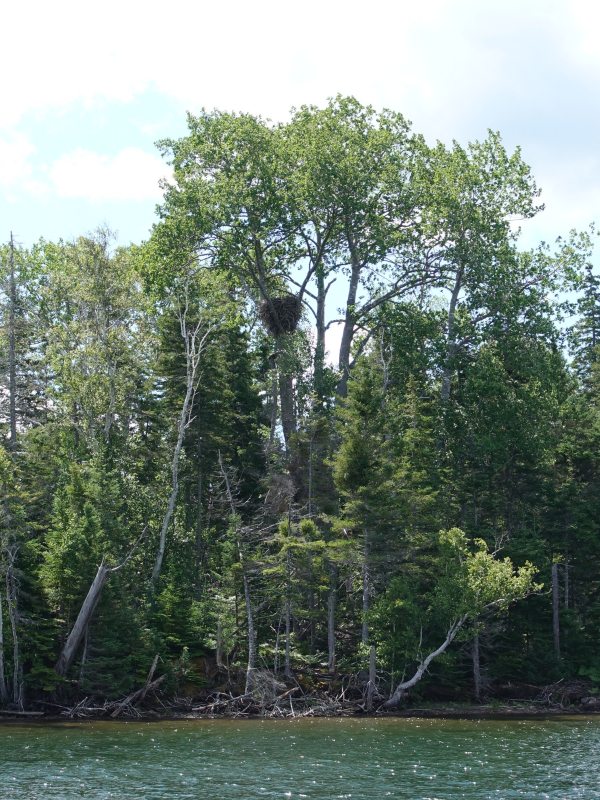 We don't have that many pictures from the Bras d'Or Lakes, but one of the more interesting things we did was to visit the Alexander Graham Bell museum. He was born in Scotland, but emigrated with his parents to Ontario, later moved to Boston and then back to Canada where he spent much of his later life near a town called Baddeck on the Bras d'Or Lakes. He of course spent a lot of time inventing and developing the telephone, but unbeknownst to us he later spent a lot of effort building aeroplanes. With a group of friends managed to build the first plane in Canada.
Here is our route from Maine to Nova Scotia and though Cape Breton: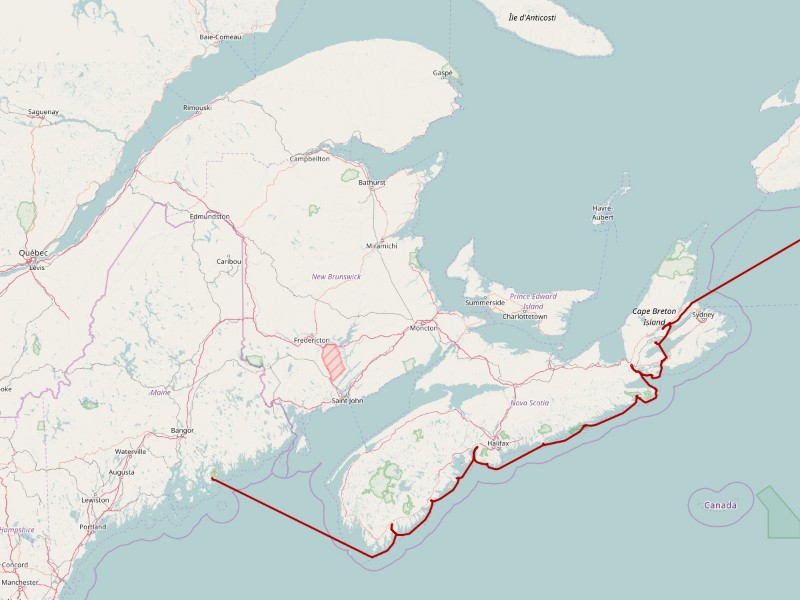 You will note that our route continues to the north east after Cape Breton. We had planned to make the Bras d'Or Lakes our turning point of this part of the trip, but decided that we should make a quick trip to Newfoundland before heading back south.
There was lots of sealife on the passage. We saw a large group of relatively small whales that were hunting. We are not quite sure what kind they were. Maybe they were long finned pilot whales but they were too far away to photograph even though they stayed around for quite a long time.
While Félicie was sleeping, a large pod of dolphins visited us: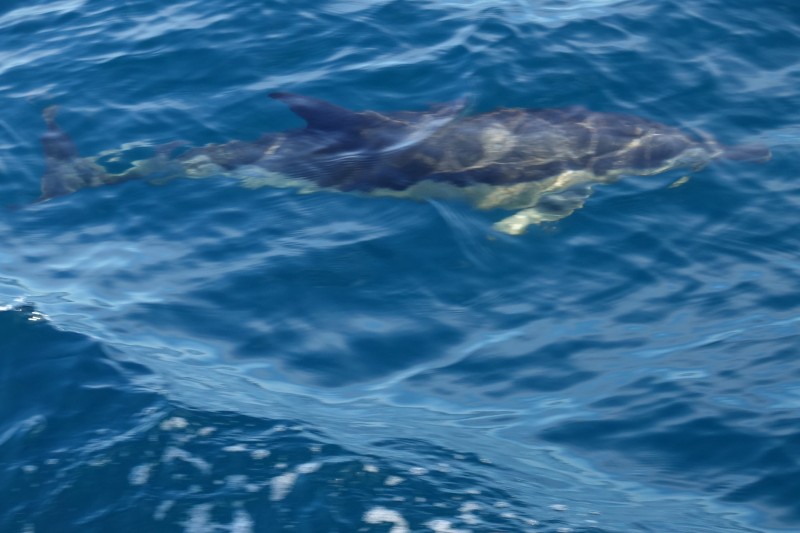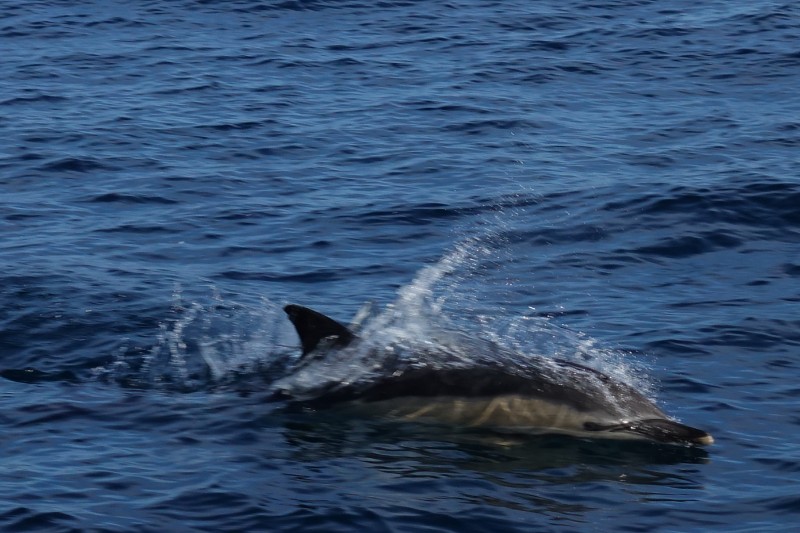 Can you see what this is?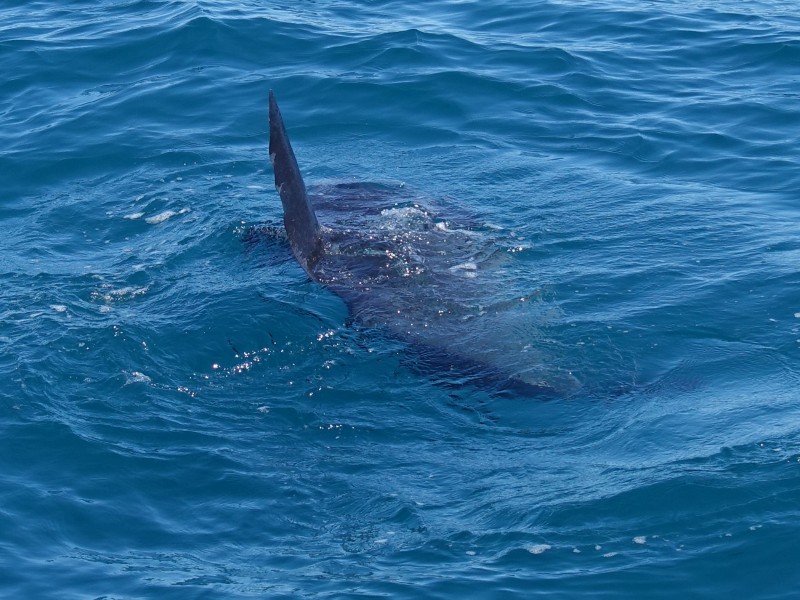 Not the greatest photo, but it is in fact an ocean sunfish. The strange large fish that often basks on the surface with one fin sticking out. We saw some off Nova Scotia but they also come all the way up to Newfoundland. This one probably at least a meter long and a meter and a half high with fins.