Coffee and Chichicastenango
Tags: Chichicastenango, Ciudad Vieja, Guatemala
Date: December 22, 2019
We left Antigua to go to Panajachel where we would stay during the days around Christmas. On the way we stopped at a coffee plantation and walked a bit to see the coffee bushes. On the way we passed a corn field with the view of smoking Fuego in the background: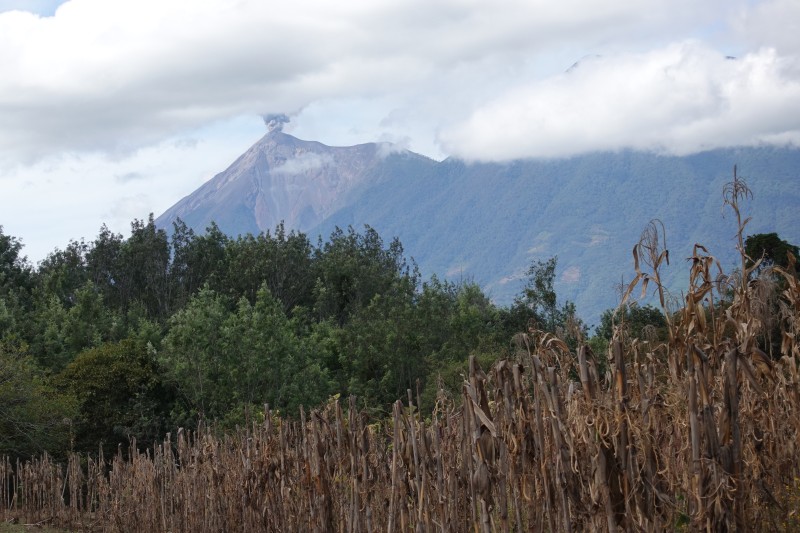 Coffee bushes: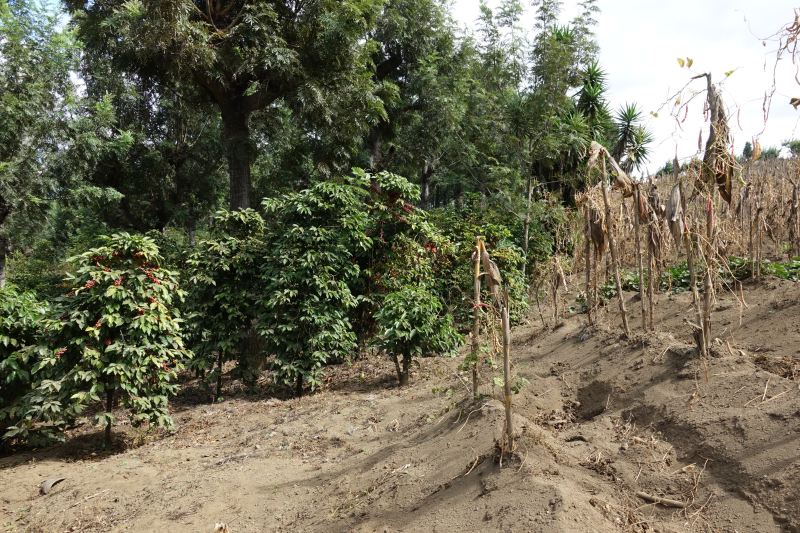 Karen Luise and our guide, Julio, walking between the coffee bushes: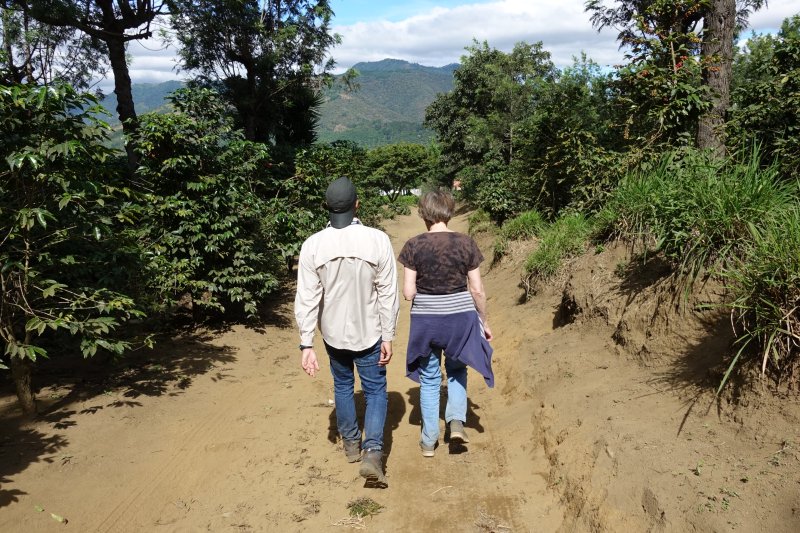 More coffee bushes: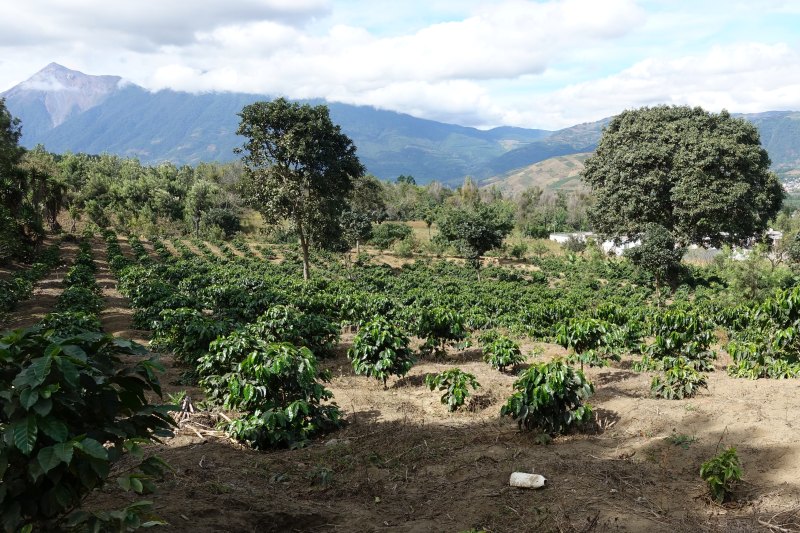 And again, here you can see the trees that are planted to shade the coffee bushes: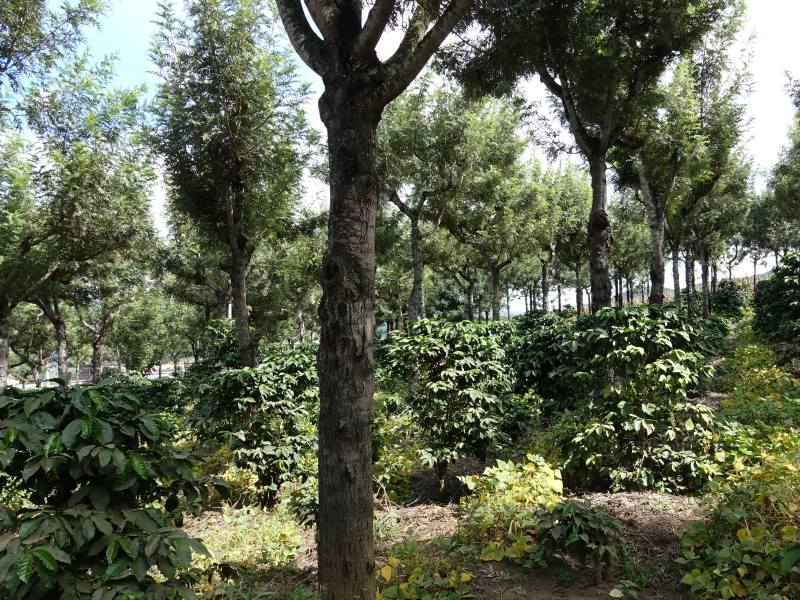 Later that day we arrived at Panajachel and checked in to our home for five nights. We had a lovely homemade dinner and were ready for new adventures the following day.
We went to San Tomas Chichicastenango, a town famous for it's market and patron saint festival which takes place at the end of December. Chichicastenango means "Place of the stinging plants" - "tenango" meaning "place of" and quite a few town in the North-Western corner of Guatemala has names ending in "tenango" which is not related at all to the language spoken by the indigenous K'iche Mayans who live in this part of the country. Rather, it comes from Nahuatl, also known as Aztec. The reason why words from this language ended up in Guatemala is that the Spanish conquistador Pedro de Alvarado who conquered this area for the Spanish empire brought an army of Nahuatl-speaking soldiers from Mexico and apparently "Place of the stinging plants" was what the soldiers named the place and it stuck.
The patron saint of Chichicastenango (shorted to Chichi by the locals) is Saint Thomas and the festival takes place on Dec. 14-21. We visited on Dec. 22 which was a Sunday. Sunday is a big market day in Chichi and I guess that's why the festival was extended for an additional day. One of the activities during the festival takes place inside and in front of the 450 years old San Tomas church. Here people can make donations and every time a donation has been given firecrackers go off like crazy on the front steps of the church: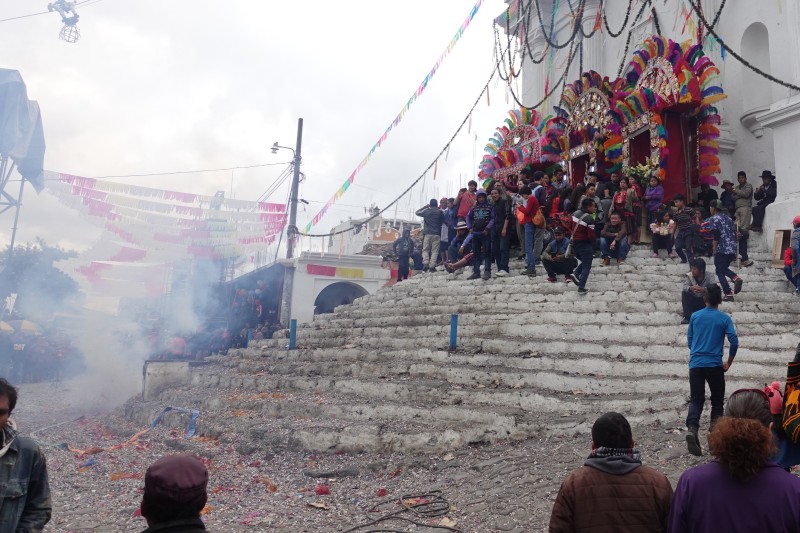 In Guatemala a unique mix between Catholicism and Mayan belief has taken place, to such an extent that K'iche Mayan priest use the church for their rituals, burning incense or even occasionally making blood sacrifice of chickens. Taking into consideration that the San Tomas church was built on top of a K'iche temple platform it is not surprising that the K'iche priest also see the church as a holy place. The stair up to the main entrance of the church is the original pre-Columbian stair to the temple platform and supposedly the 18 steps represent the 18 months in one of the Mayan calendars. The object tied to strings in the upper part of picture is a horse and horseman with a little pouch underneath where donors to the church can leave their donation: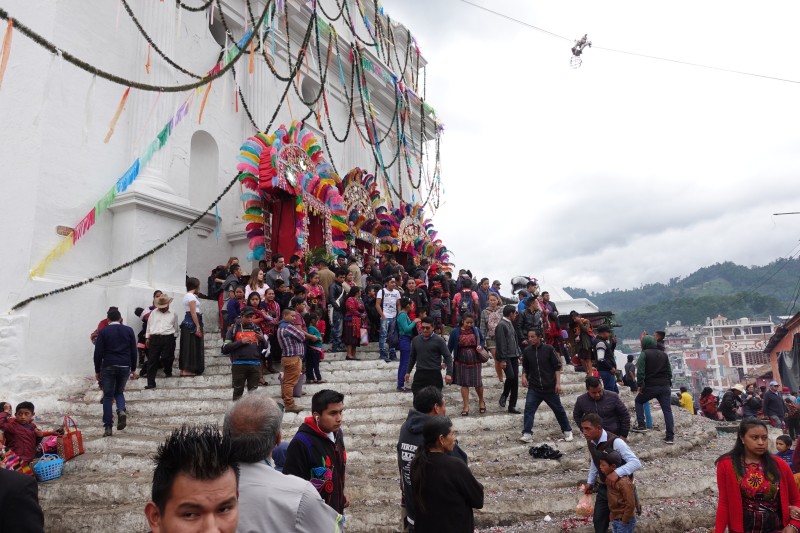 There are also traditional dances representing different myths and historic events. One of them, called "Dance of the Conquest" shows how Pedro de Alvarado fought the indigenous people and won. All the dancers wear masks and colorful costumes that are all produced locally in renowned family owned workshops that have made masks and costumes for generations: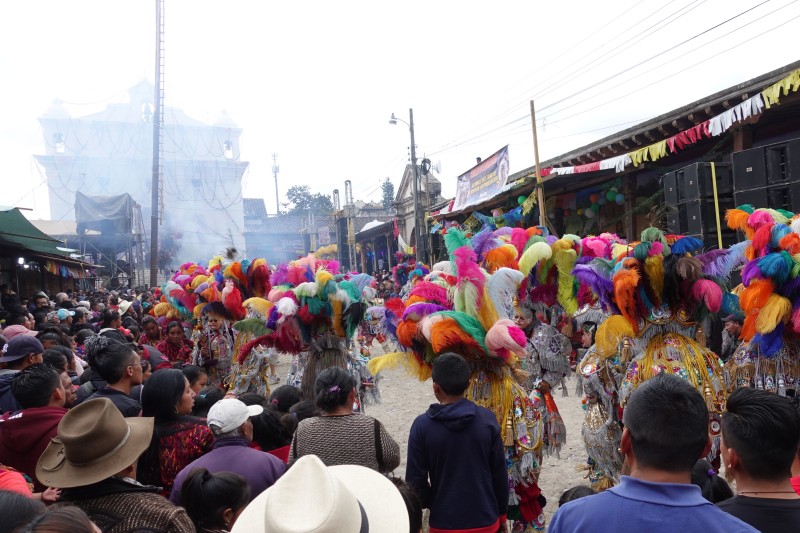 In addition to the activities related to the San Tomas festival, Chichi was also extremely busy with its market day. The narrow streets were packed with people doing their Sunday market shopping. In the basket ball court, the vegetable market was set up and we got to buy a few necessities for our Christmas dinner: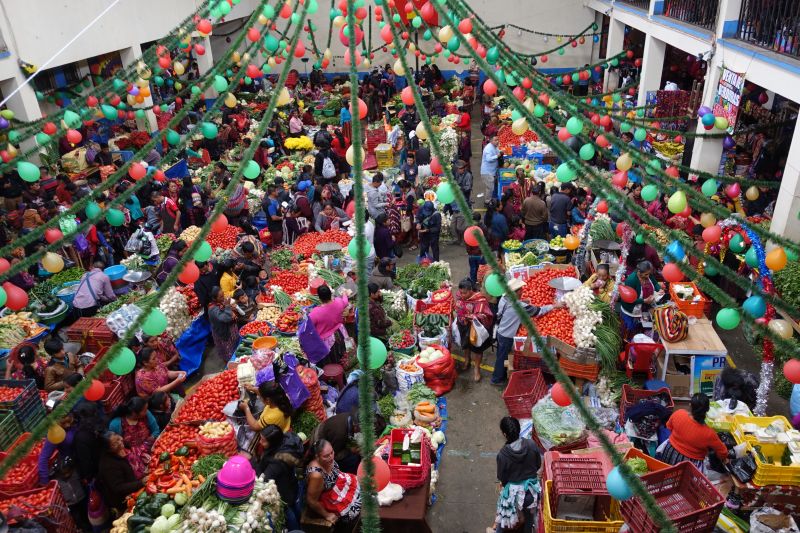 We had time for a short walk around the Chichi cemetery, which is visible in the background. All the tombs were freshly painted in October before All Saints day so it was all very colorful: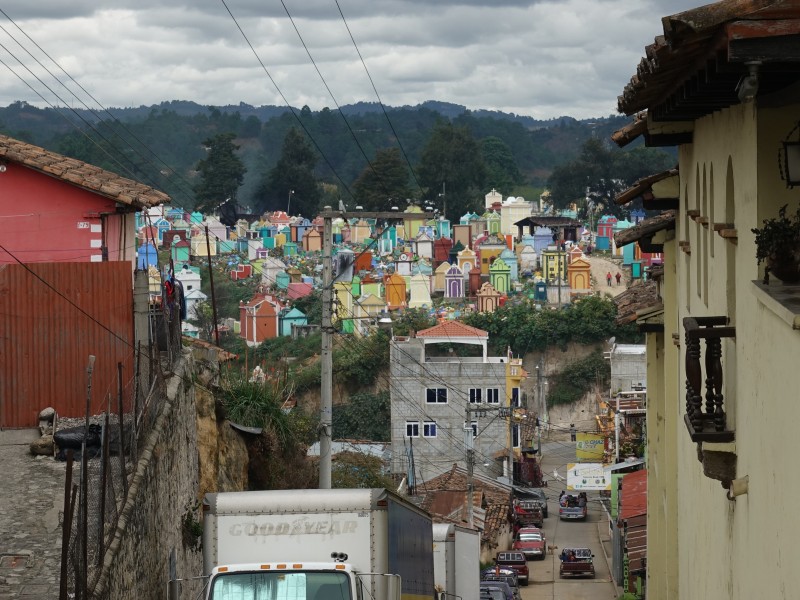 We passed by the part of the market dedicated to selling live animals - mostly chickens, turkeys and ducks. We have seen many ducks in different parts of Guatemala but it does not seem that Guatemalans eat duck, rather they keep ducks for the eggs. Here is a picture of ducks in baskets: