Exumas
Tags: Bahamas, Exumas, food, George Town, Musha Cay, Rudder Cut Cay, sailing, Shroud Cay, White Bay Cay
Date: May 9, 2017
In the turks and Caicos, we saw the first dolphins since the Atlantic crossing and from then on we have seen quite a few. Here are three following the boat: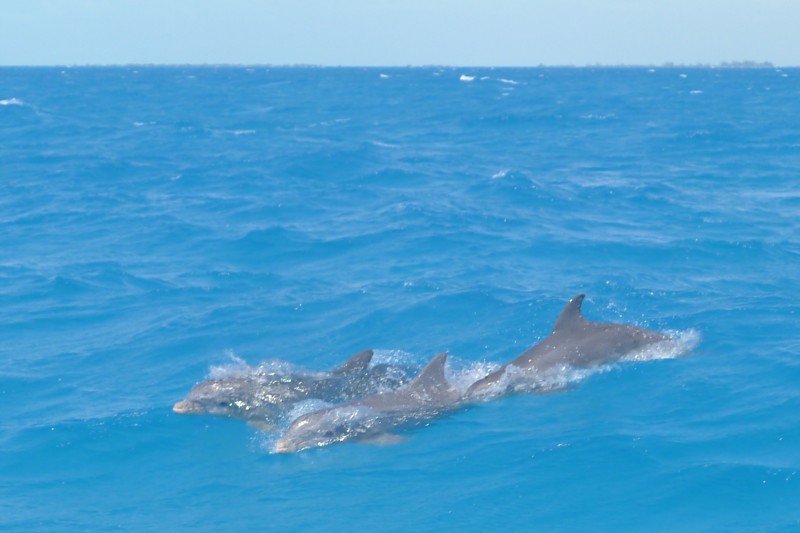 After three weeks of barely seeing a boat a day on average, we arrived at George Town on Great Exuma Island. This is where everyone is: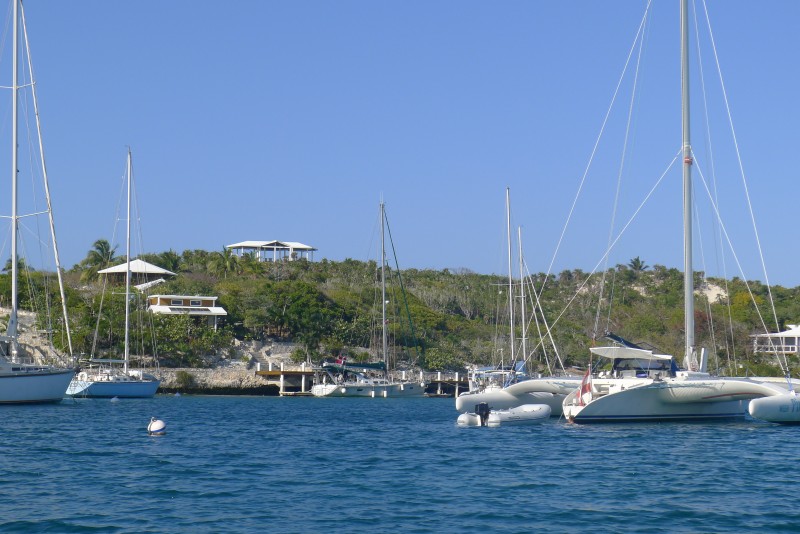 We thought it was time to have drink at a bar. This is the view from the bar on Stocking Island opposite George Town: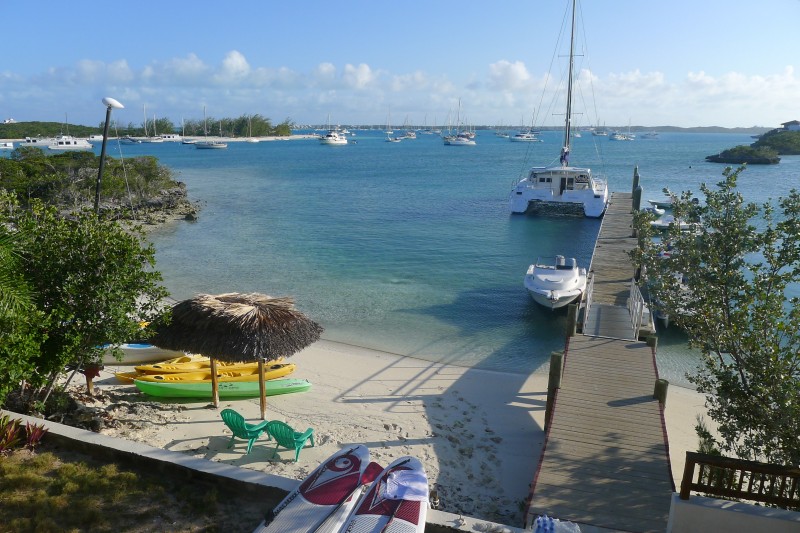 A margarita and a piña colada in the sunset: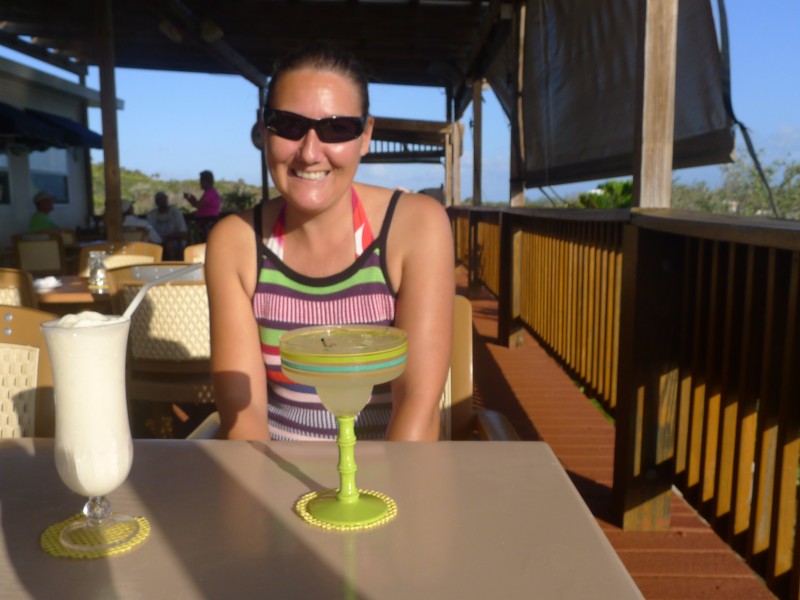 We went on a long awaited provisioning trip to George Town, where we also were able to get rid of our trash and buy gasoline for the dinghy. The town was a bit of a disappointment - small and with less shops and restaurants than we had anticipated. There was a large and very well tended church, though: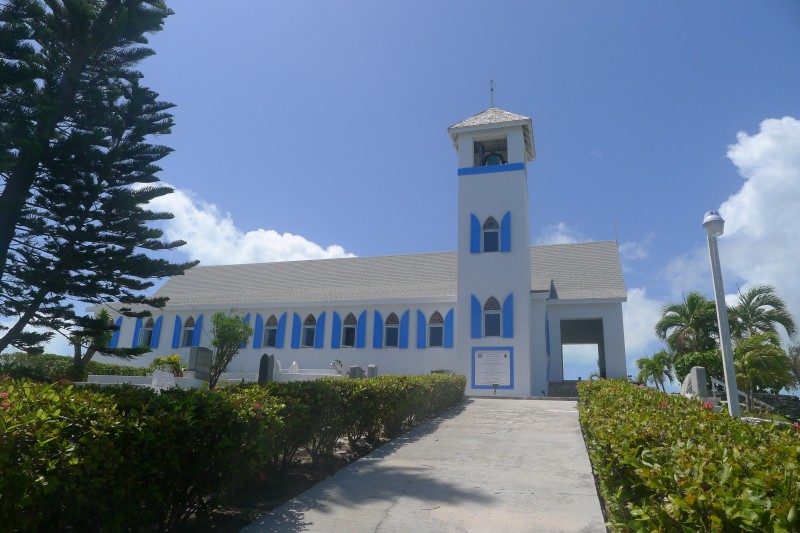 After we left the George Town area we anchored off a small island called White Bay Cay. The word "cay" features in the names of many islands in the Bahamas. It is the same as the English word "key", meaning small island, and "cay" is also pronounced the same way as "key". No people live on the island but pigs are kept there as seems to be pretty common on smaller uninhabited islands in the Bahamas. Every day several large motorboats full of tourists would anchor off the beach and the tourists feed and pet the pigs. We decided to pay them a visit as well. As we approached the island in our dinghy the boar swam out to greet us, clearly expecting that some food was going to come his way: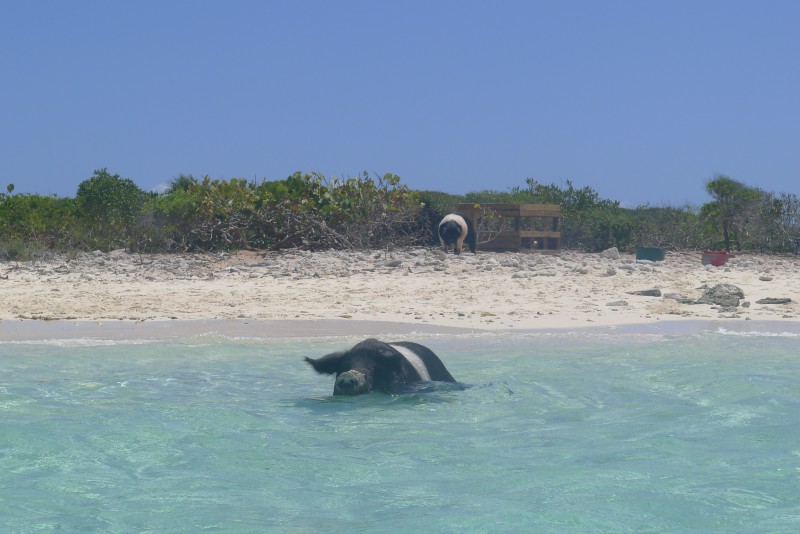 Indeed, we were bringing gifts of stale biscuits and Bjarne's breakfast müesli (the milk he poured over it turned out to be sour, so we kept the bowlfull for the pigs):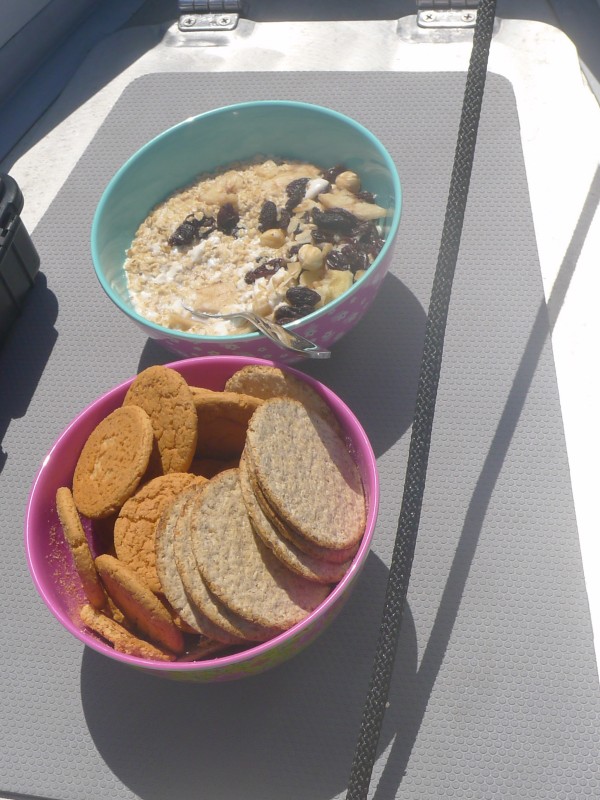 More pigs turned up and we jumped in the water to prevent the pigs from getting too close to the dinghy and then started handing out the biscuits: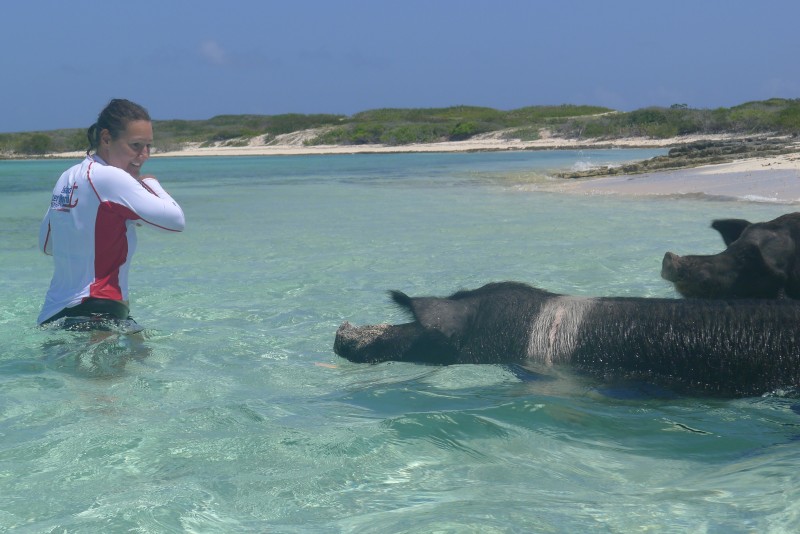 The biscuits were quite popular: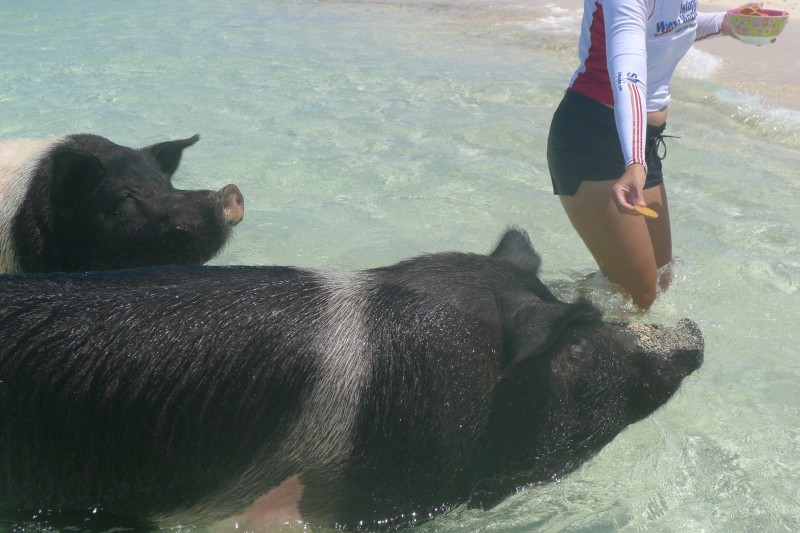 We were allowed to pet the pigs as well as feeding them: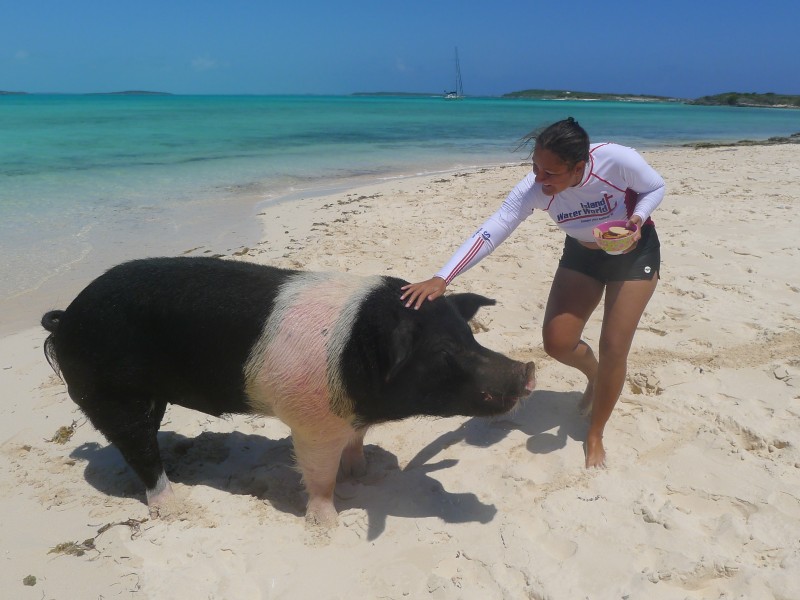 Including the large boar we counted nine adult pigs and at least two young ones. Here is one of them: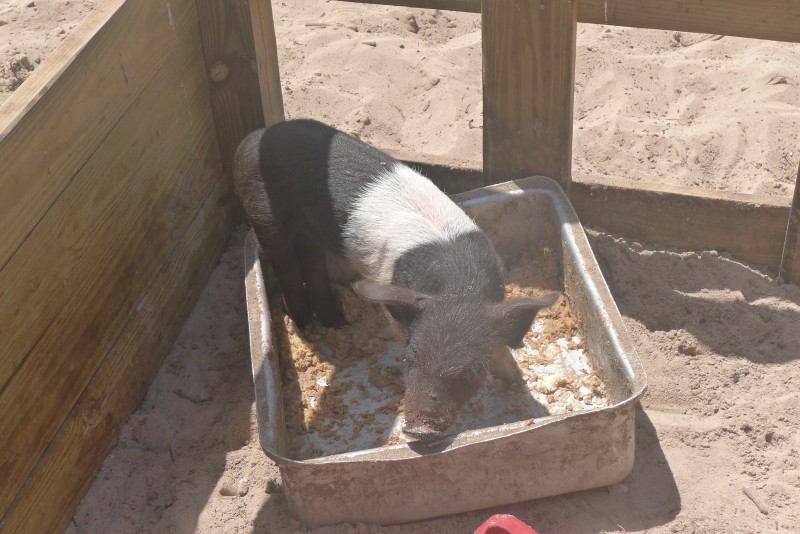 The last biscuits are handed out. Note Amanda at anchor in the background: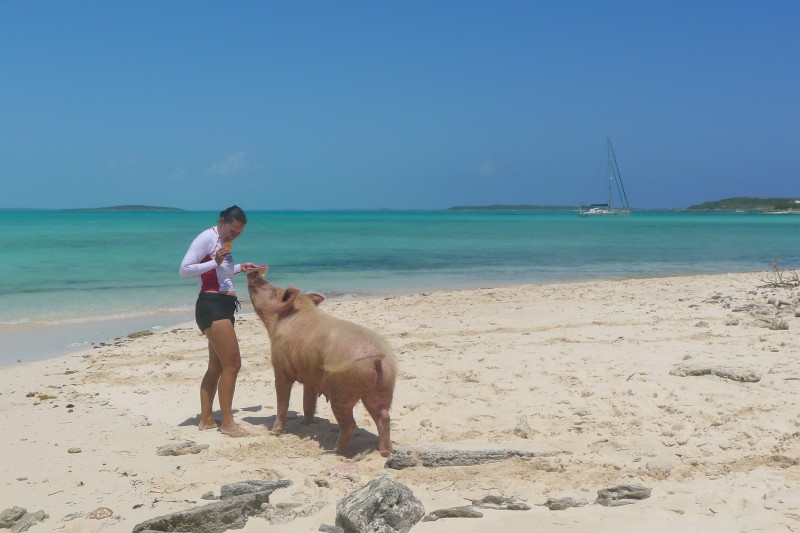 We left White Bay Cay and went on to Rudder Cut Cay. It is a privately owned island and going ashore is prohibited but anchoring off the island is allowed.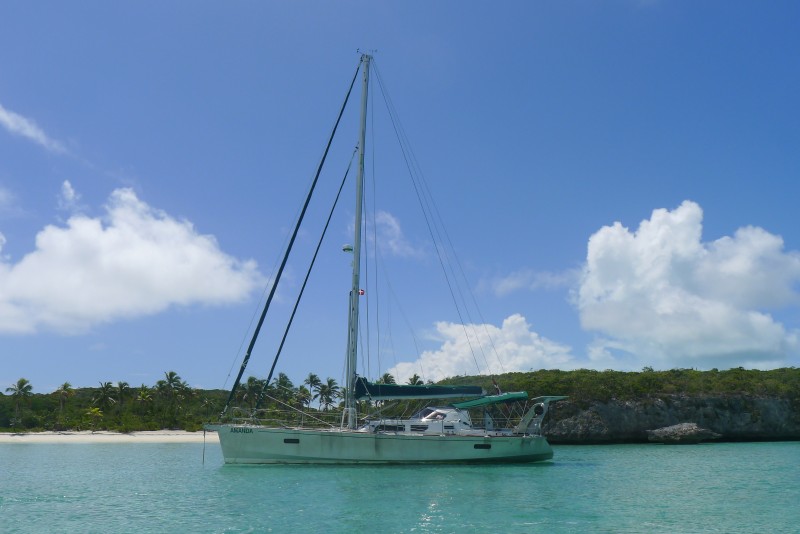 The beaches look really nice, with palm trees and white sand but they all have "No trespassing" signs. If you look closely you can see the sign on the second palm from the left: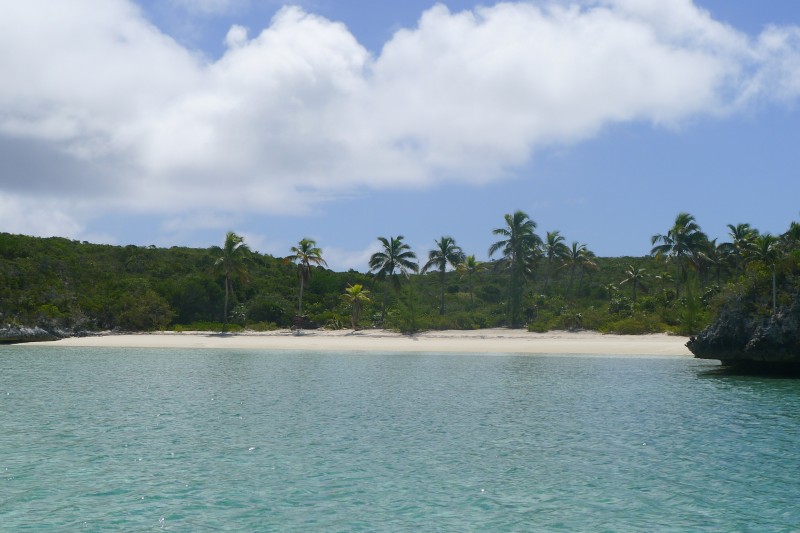 The beaches are interspersed by areas of limestone in which sea caves have been formed: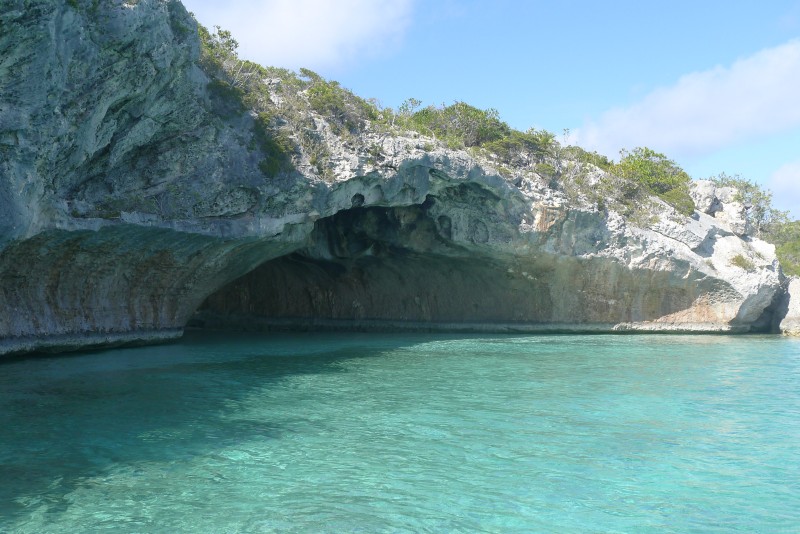 Looking up through a hole in the ceiling of one of them: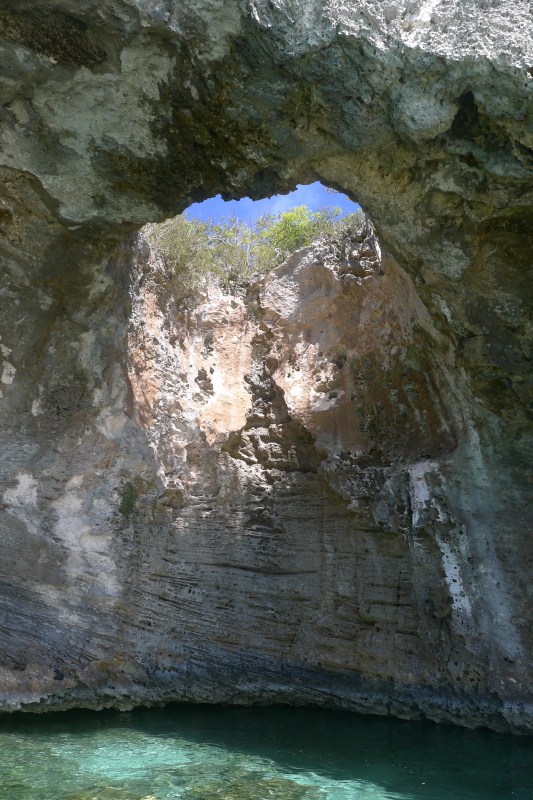 The limestone gets eroded by the sea to form strange shapes, like this mushroom shaped rock: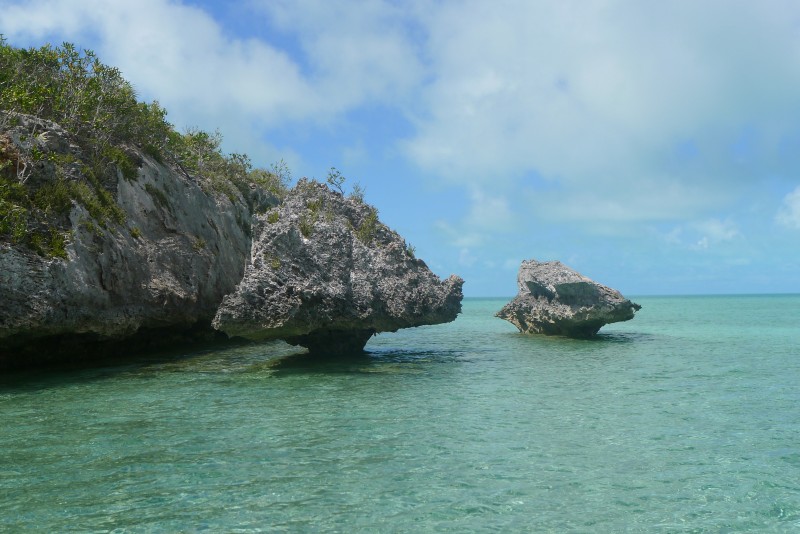 Next to Rudder Cut Cay is Musha Cay, also a privately owned island. Musha Cay is owned by the magician David Copperfield (you might remember him from some television shows in the late seventies to early eighties). Whereas most of the privately owned islands we saw in the Bahamas seemed pretty deserted and run down, Musha Cay seems very well kept with several large well tended buildings and the beach below full of "beach toys" such as mini catamarans, a volley ball net and a giant hammock: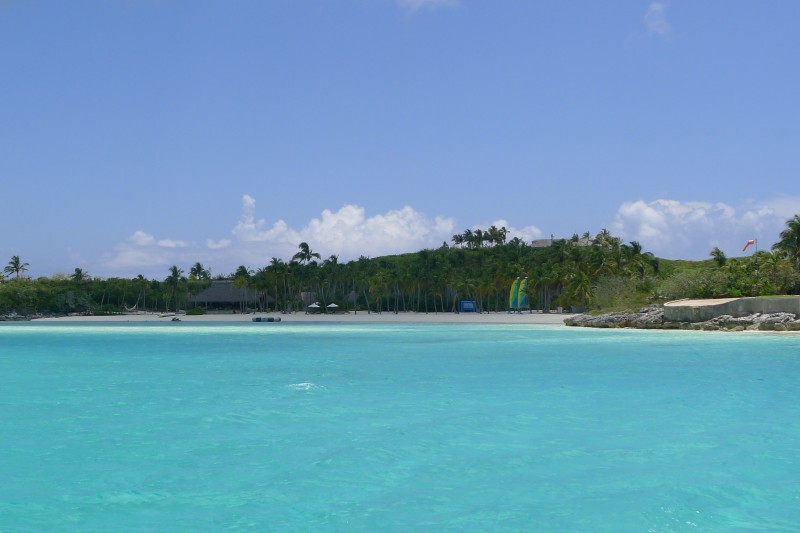 One of our last stops in Exumas was Shroud Cay. The interior of the island is crisscrossed by creeks and covered in mangroves. We went on a dinghy ride on one of the creeks all the way to the Atlantic side of the island. Here we climbed a small hill with a view of the mangroves and creeks: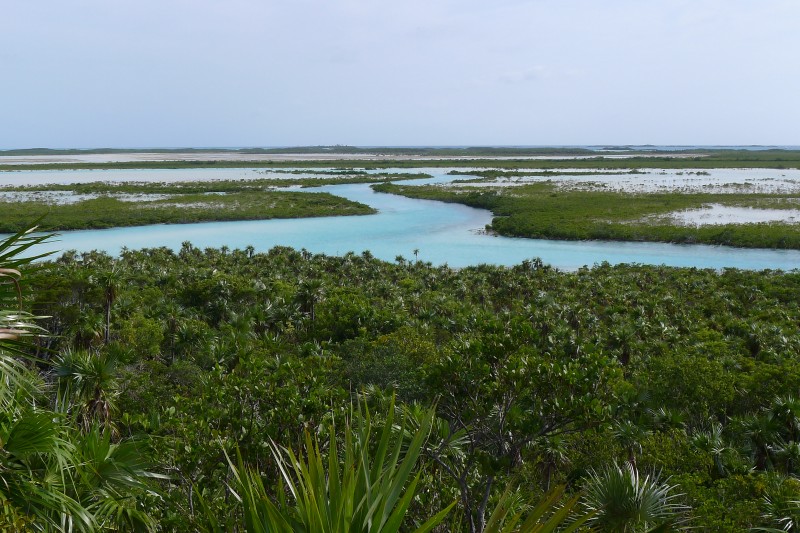 Félicie on the Atlantic facing (eastern) beach on Shroud Cay: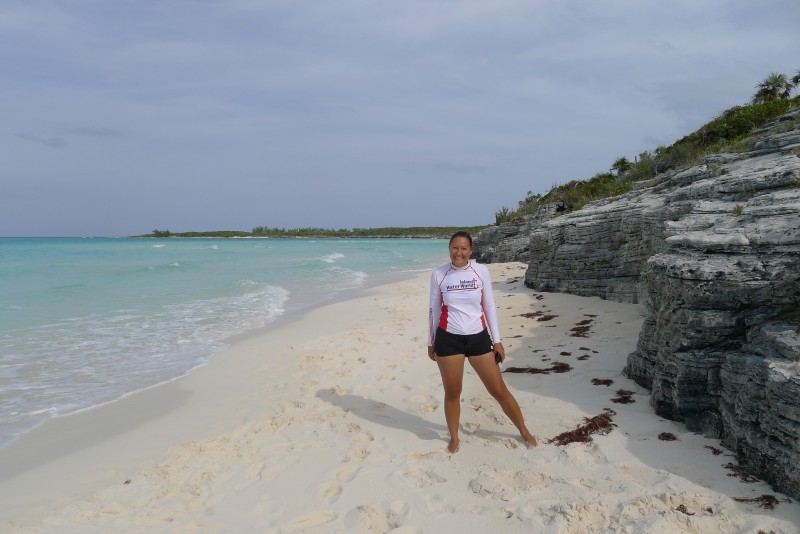 After Shroud Cay we went to North Sail Rock - among the very last of the islands in the Exumas. Here we did some very nice snorkeling and Bjarne caught a lionfish which we had for dinner that night. The lionfish is an invasive species, originating from the Indo-Pacific Ocean. They have no natural enemies in the Caribbean or Bahamas, so killing one was a good deed. We managed to filet the fish without getting stung by its venomous spines: