Chesapeake Bay
Tags: Annapolis, Bermuda, Chesapeake Bay, Chesapeake City, food, Havre de Grace, Maryland, sailing, St. George, USA
Date: November 5, 2017
During the transit from New York to Chesapeake Bay we has visits by a couple of birds. They may have been attracted by the huge swarms of black flies that would settle on our boat while we were sailing in Delaware Bay on our way to the entrance to Chesapeake Bay.
This one stayed a whole night on the boat, hiding in the front the boat next to the anchor chain, emerging again in the morning to feed on the flies: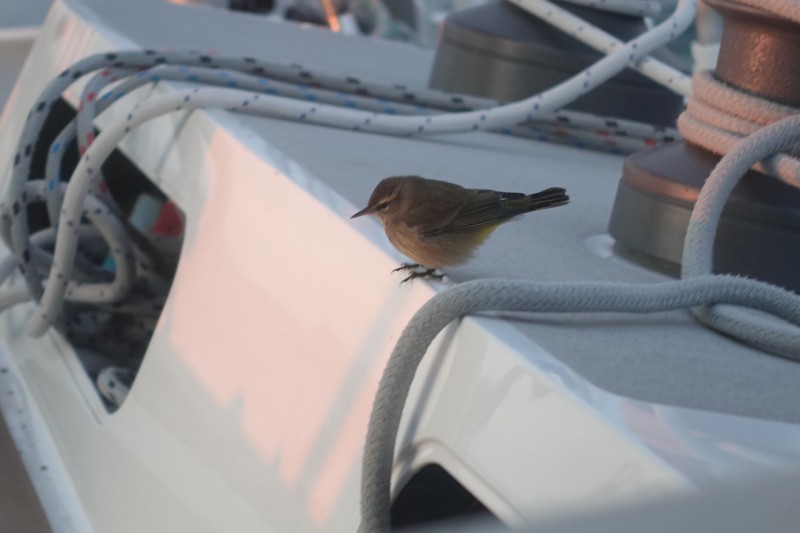 This second one stayed only for about half an hour: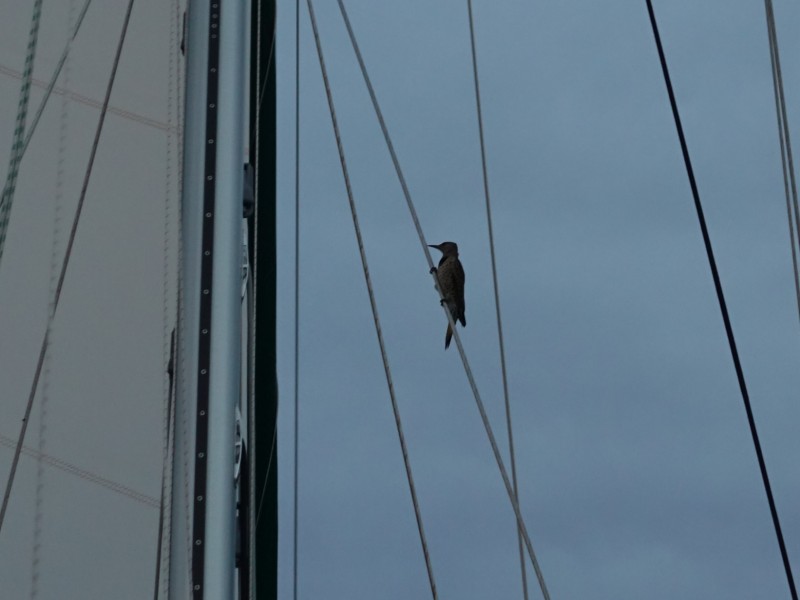 On the D and C Canal separating Delaware Bay form Chesapeake Bay: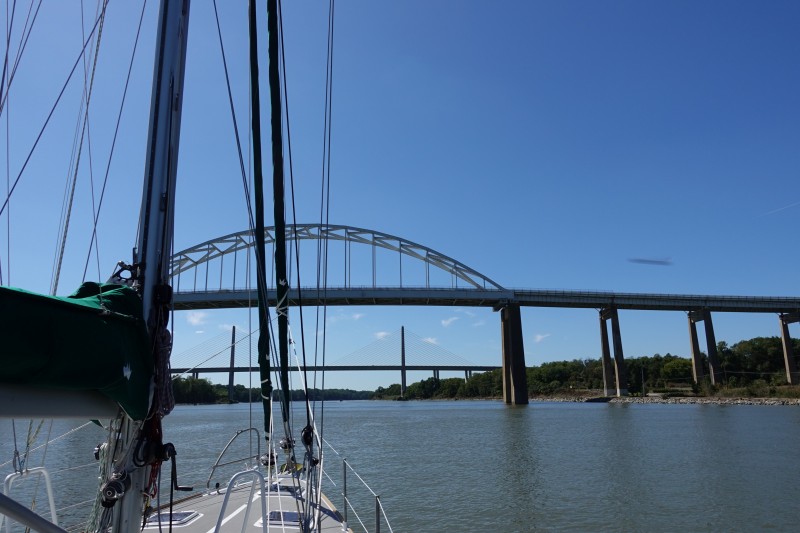 A popular restaurant in Chesapeake City on the D and C Canal: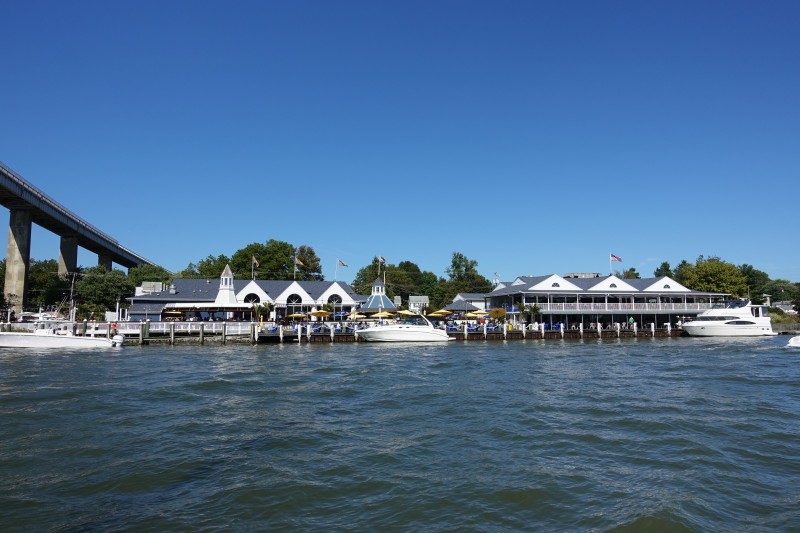 We stayed for a while in a town called Havre de Grace (pronounced Havur duh Grace, so not in French!). Here we met Brian and Manon a sailor couple who are planning to go sailing full time in a couple of years when they retire. They were really helpful and we had dinner and drinks with them.
In Havre de Grace we saw this neat way of storing your boat after a Sunday afternoon boat trip. Park the boat in front of the fork lift: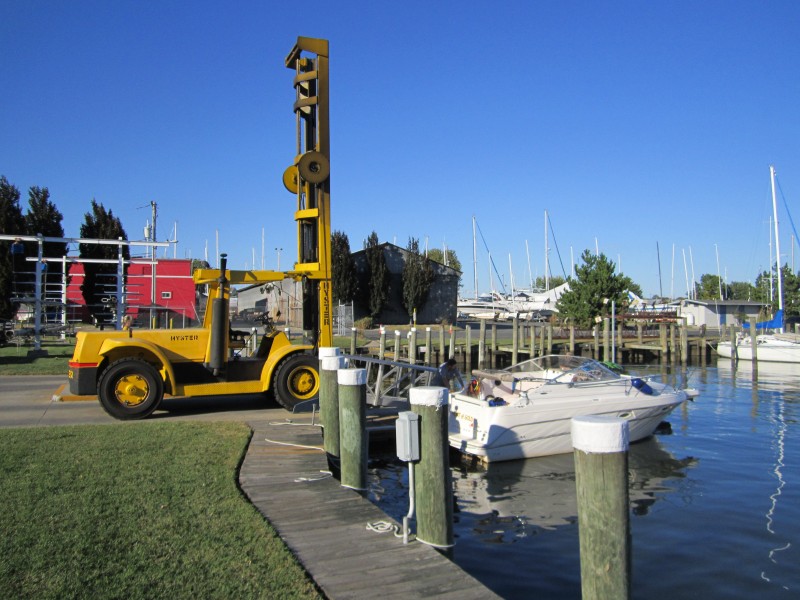 Fork lift doing its thing, i. e. lifting: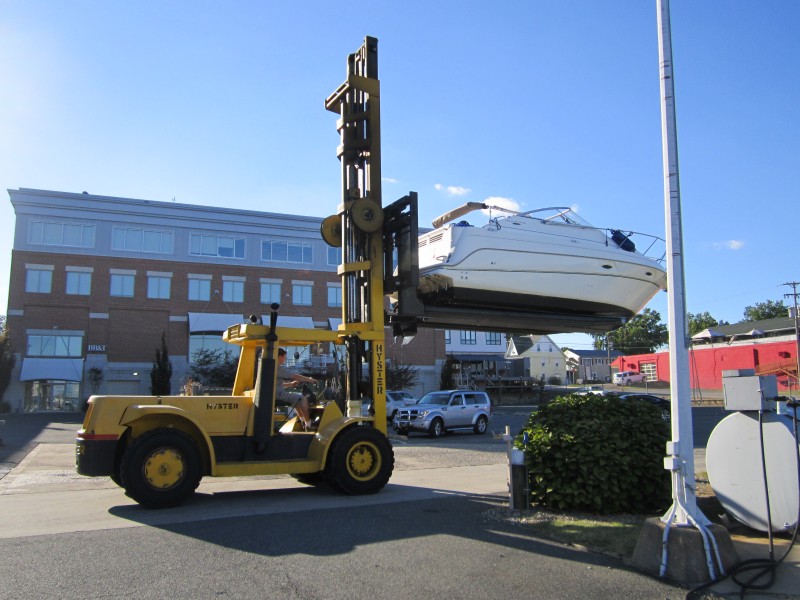 Fork lift driving boat into storage hangar: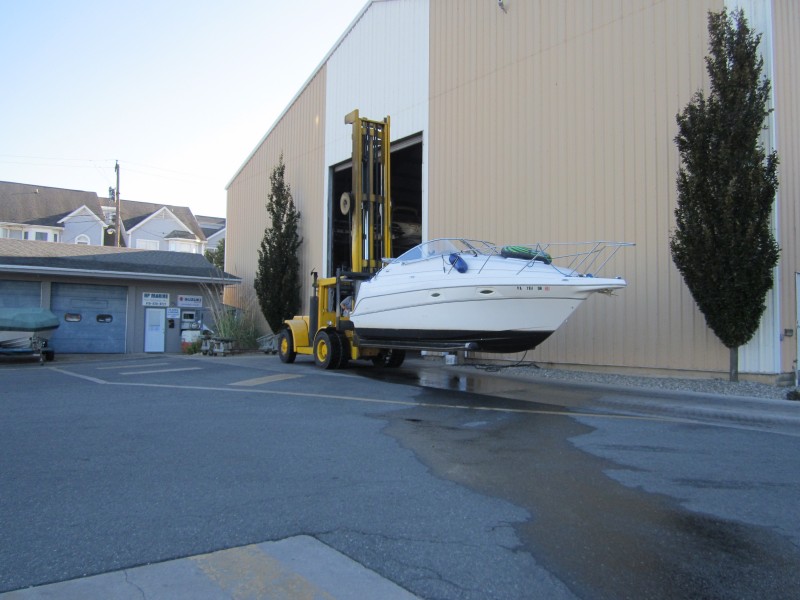 Havre de Grace is a very idyllic town with tree-lined residential streets and wooden houses: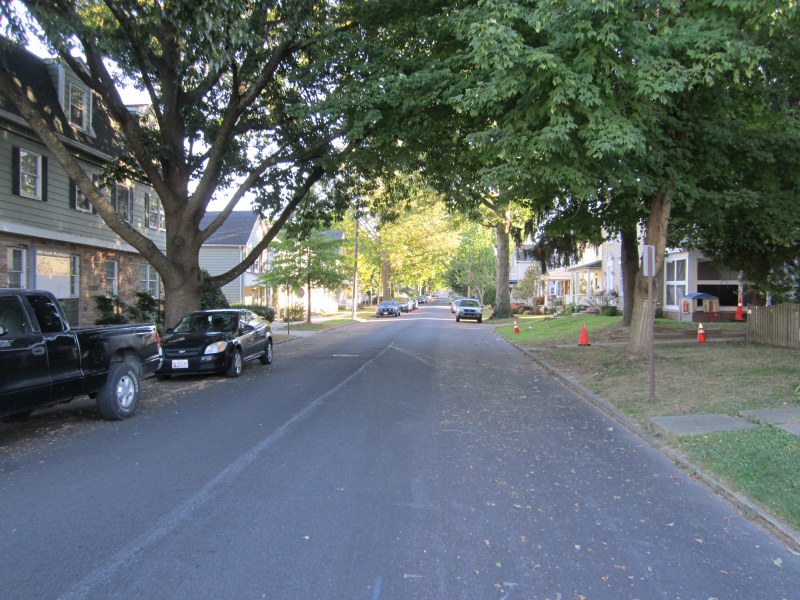 After Havre the Grace, we went to Annapolis where we anchored in the Back Creek in Eastport: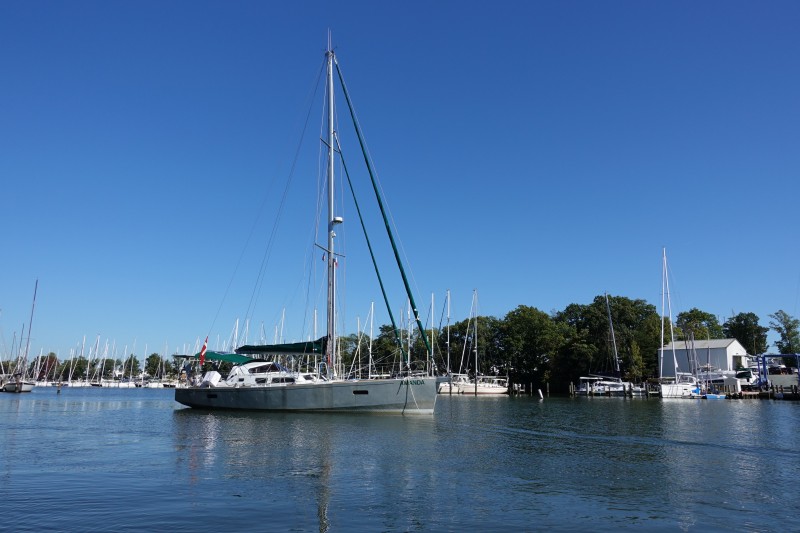 Annapolis is a charming town with a very nice shopping street where we counted at least four ice cream parlors. However, due to events out of our control (see below) we never got around to try any of them. Anyway, here is a view of the steeet: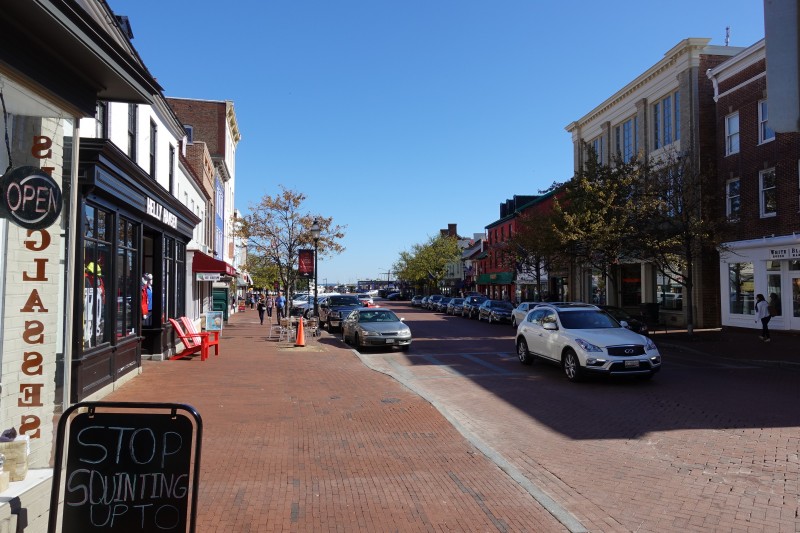 The reason why we never got to sample the ice cream shops in Annapolis was that we got inundated by several large boat projects. First of all Bjarne finished the awning that he had started sewing as we first entered the Chesapeake Bay. An awning is a fabric cover used to shade the boat from the sun and hopefully keep it cooler downstairs. Also the awning makes it possible to keep the windows open even when it is raining, again helping to keep the boat cool. Here is a picture with the completed awning installed: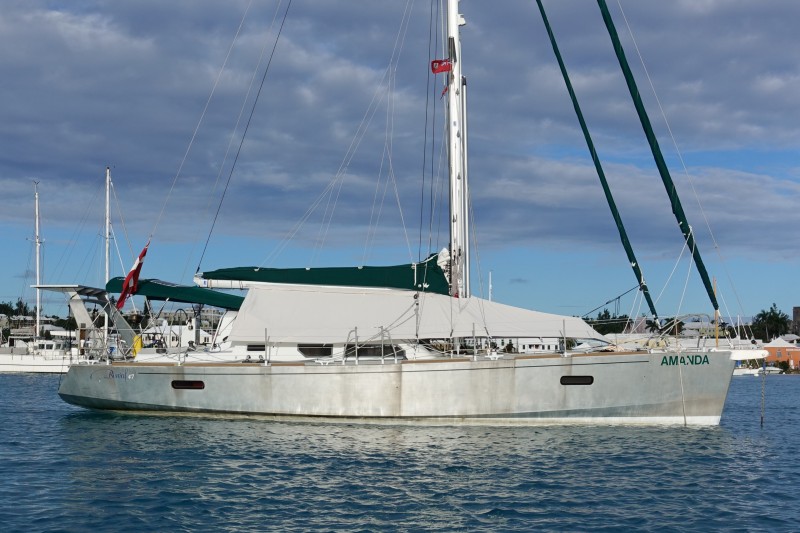 While we were in Annapolis Bjarne also installed a new watermaker on the boat: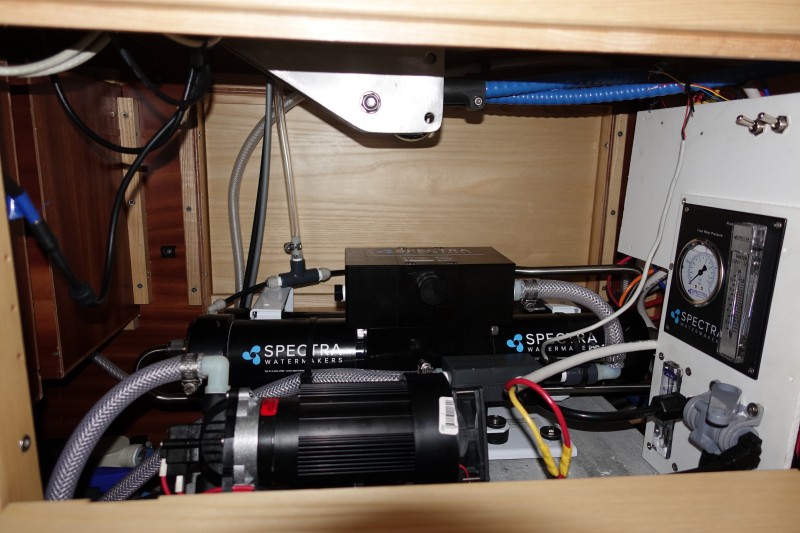 One project we had not planned on doing was building a new freezer, but just as the new watermaker had been installed our freezer died. So Bjarne decided to build his own freezer. It took one week from Bjarne started planning how to build it until it was finished! It included having Bjarne to work with fiber glass - something he avoided doing even when we had a fiber glass boat. Here he is glassing away: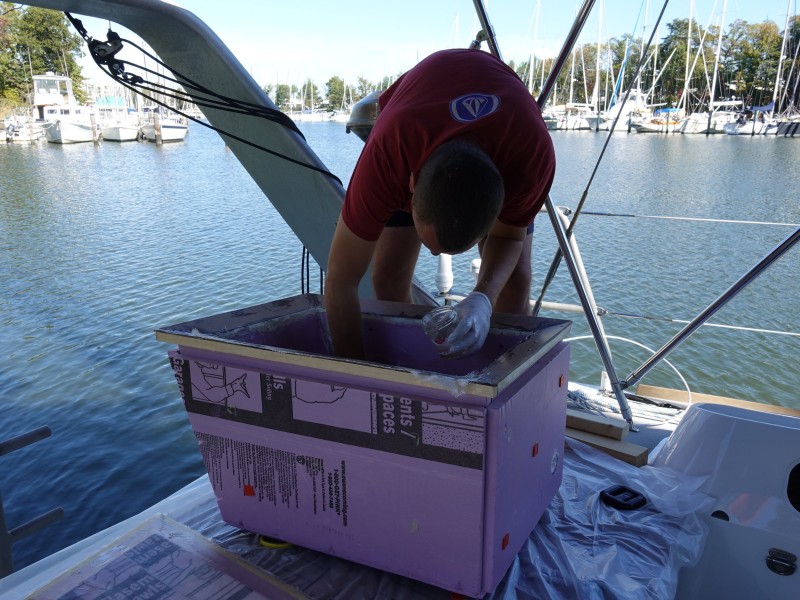 Fortunately it was not all work for Bjarne while we were in Annapolis. Actually, we ended up socializing quite a bit. Brian and Manon from Havre de Grace came down in their boat and rafted up to our boat during the weekend. Then there was Mike who patiently drove us around town to chandleries, hardware stores and supermarkets as well as taking us out for dinner and in general did a great job boosting Bjarne's morale during the sometimes challenging projects. Mike drives a BMW convertible and this is what it looked like after a visit to the hardware store to buy stuff for the new freezer. The arm in the back belongs to Félicie: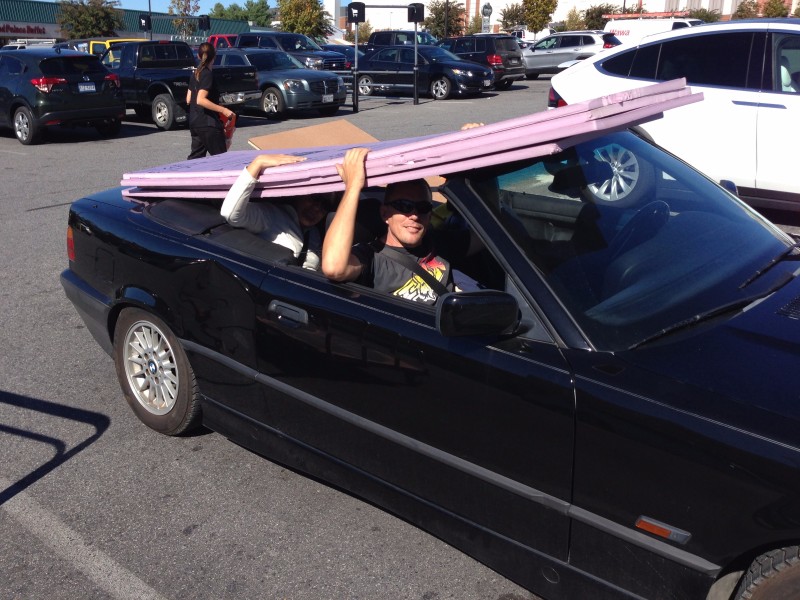 We had initially met Mike in Nova Scotia, where he was on vacation with his girlfriend Beth. They invited us to come meet them in Annapolis and they were the reason we went to Annapolis in the first place. During the weekend Mike and Beth sailed their boat into Back Creek and rafted up to our boat and we spent a couple of days together. Mike also introduced us to several other local sailors. There was the experienced sailor, Lauren, who kindly let us keep our frozen food in her freezer while Bjarne after our stopped working. Also we spent some time with another sailor, Mike, who introduced Bjarne to stand-up paddling: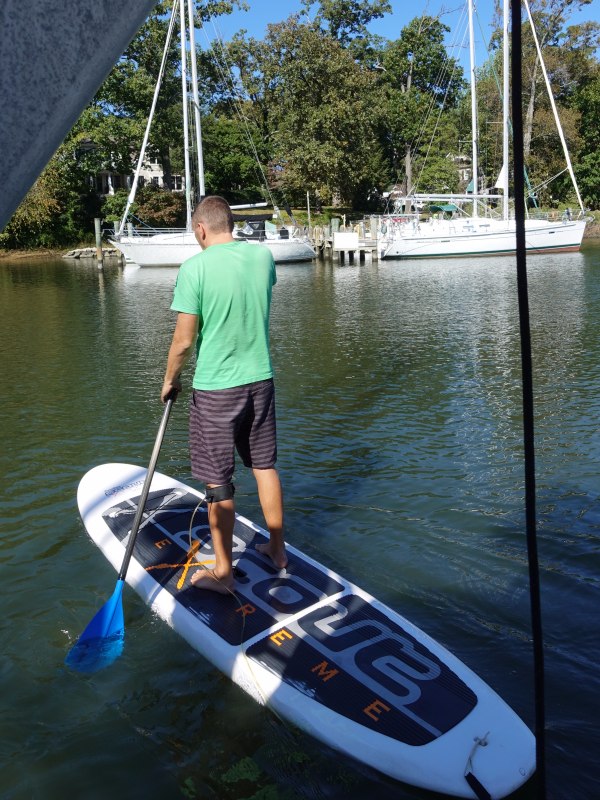 After a shaky start where he almost fell into the water while getting on the board he showed real talent: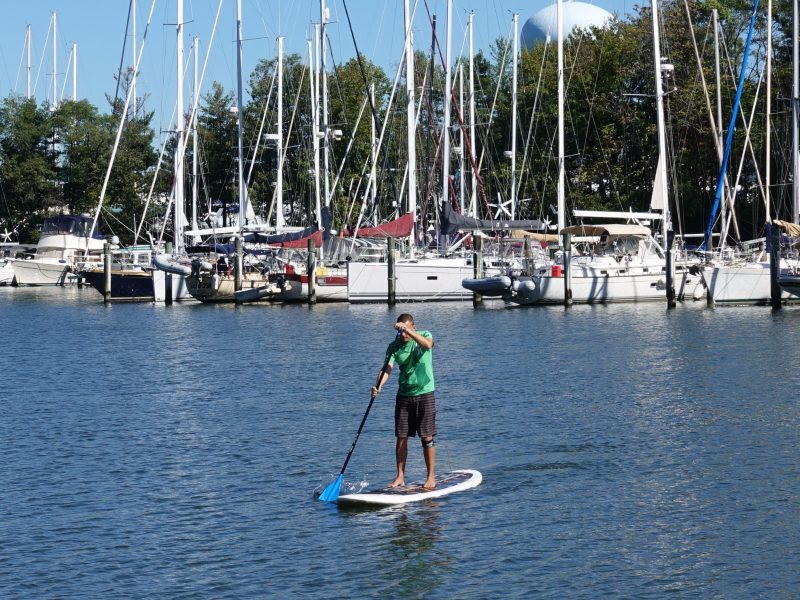 Even though we did not get any ice cream we did get this pear-cranberry-pecan upside-down cake that Félicie made while Bjarne was busy building freezers, installing watermakers and sewing awnings and whatnot.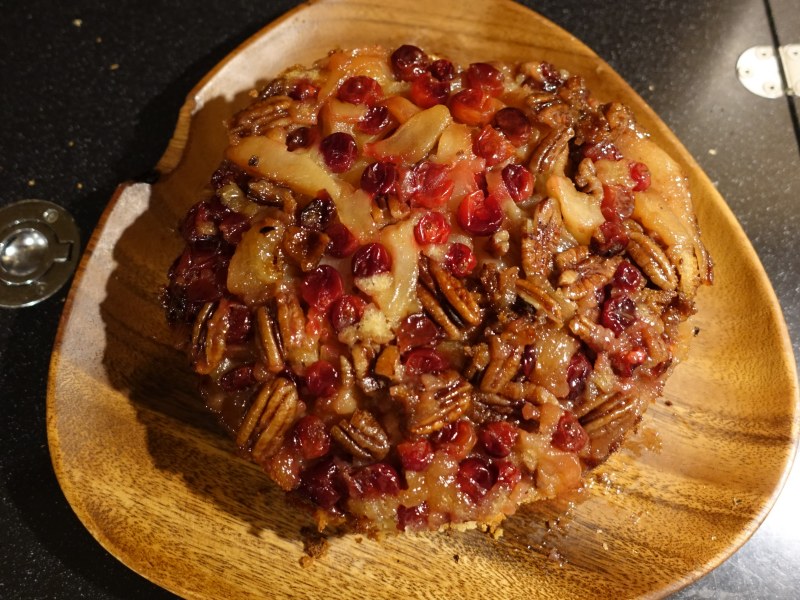 Finally, after almost two weeks anchored in Back Creek, we were ready to move on towards Bermuda. We passed several racing boats as we exited Eastport harbor: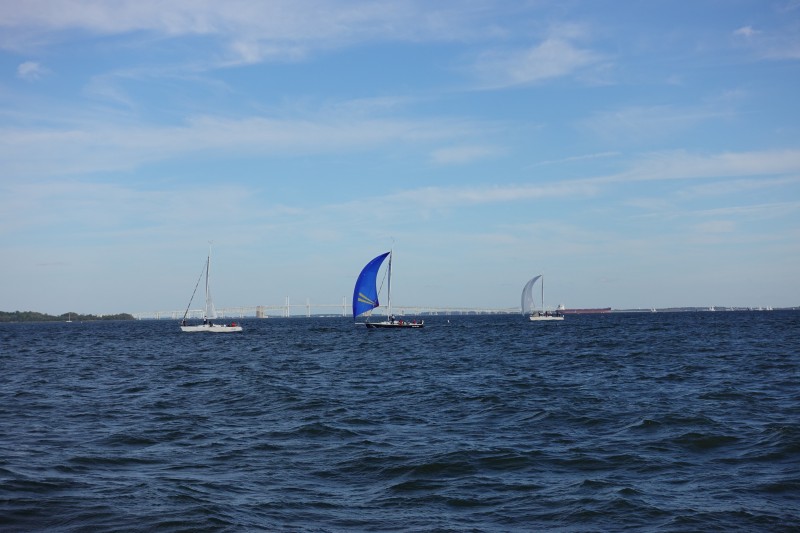 On the second day out from Chesapeake Bay, a couple of F14 Tomcats circled above us for a time. When they started shooting (not a us but still quite worrying) Bjarne called them on the radio. We never got any answer but the planes took off and left us alone. Here is one of them, fully loaded with missiles and stuff: